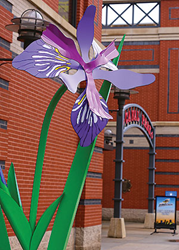 Hudson, Ohio (PRWEB) June 17, 2015
As a medical facility in one of the worlds biggest healthcare markets, what can you do to stand out? With the help of Cleveland-based agency AKHIA, Akron Childrens Hospital got the regions attention by planting large floral art sculptures across Northeast Ohio. Together, the agency and hospital created a program to celebrate Akron Childrens 125-year anniversary of being in Akrons backyard, including commissioning a sculpture artist to create unique, vibrant metal flower sculptures for display throughout the region.
This arts project, designed to celebrate the community spirit, was no small feat and required total collaboration and cooperation. AKHIA managed all moving pieces of the program and left no detail to chance.
The agency researched area sculptors and provided the hospital three local artists who could make 25 whimsical metal flower sculptures. Akron Childrens then chose the preferred style and artistic team.
The art pieces were designed by landscape designer and painter Judith Spater and created by artist and sculptor Stephen Canneto. Each unique sculpture stands 6 to 9 feet tall and represents a flower thats native to Northeast Ohio, including violets, sunflowers, lilies, coneflowers and asters.
From start to finish, the sculpture program was a collaborative effort between AKHIA, the designer, the sculptor and Akron Childrens. While the artwork and creation of the sculptures were handled by Spater and Canneto, AKHIA worked with them on the vibrant colors of the flowers and designed the accompanying plaques, said Jan Gusich, CEO at AKHIA.
Selecting where to install the sculptures was another important piece of the puzzle. Twenty-five community partners were chosen to receive the sculptures based on their connection to Akron and the community, as well as how well they represent Akron Childrens high ethical standards. But most of all, the location had to be family oriented.
The mid-April installation of the sculptures coincided with the grand opening of the hospitals Kay Jewelers Pavilion. With a child-friendly backyard theme that plays well with the flower sculpture designs, the building is home to a new emergency department, neonatal intensive care unit, outpatient surgery center and special delivery area.
Throughout the anniversary year, sculptures can be found blooming in places like the Akron Zoo, Akron-Summit County Public Library, Boettler Park in Green, Medina Square, Lock 3, First & Main in Hudson, Stan Hywet Hall & Gardens, Aurora Farms Premium Outlets and other locations.
Although the sculptures will be in place at their locations for a minimum of a year, its our hope that our partners will want to keep these beautiful pieces of art for as long as possible, said Gusich.
For a complete list of the locations of the flower sculptures, visit http://125.akronchildrens.org/community-art-sculpture-locations.
About AKHIA

Founded in 1996, AKHIA is an integrated communications firm that distinguishes itself by focusing on a companys business objectives and providing strategic solutions, including marketing, sales lead generation, public relations, social media and reputation management. AKHIA is located in Hudson, Ohio. The organization was founded on a philosophy of message integrity and best-in-class account service. Today, that philosophy remains in the form of the agencys dedication to strategic execution for its clients spanning a wide range of industries in the business-to-business, service and consumer sectors.
###