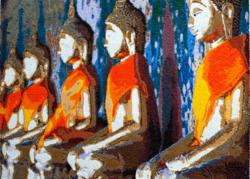 Dallas, TX (PRWEB) February 19, 2013
Alan Simmons Art + Design presents Points of View: New Pointillism Works by Kevin Page at a gallery debut opening and reception for the noted Dallas area actor and artist. The event will be held this Saturday, February 23, 2013, 5:00-8:30 PM at 1415 Slocum Street, Suite 105, Dallas, TX 75207, 214-745-ALAN (2526), Dallas Design District. Kevin Pages exhibition will run from February 23 March 30, 2013. He previously debuted his work in a group show at the gallery in December 2012.
My style is called New Pointillism, Kevin Page said. I make all the same decisions a traditional painter or portraitist would when creating an artistic work. I control color, line, form and composition; however, I use sophisticated software and robotics to execute much of the paint application. It is a power tool for oil painting. Most of my paintings are classically composed using principles such as the Golden Ratio or Golden Rectangle.
In traditional pointillism, as originally conceived by Georges Seurat in the 1880s, the artist must apply thousands of tiny stokes of paint with either a brush or palate knife, Page explained. By using very small strokes or dots of paint, the final image results in a mix of color in the eye of the beholder and appears more color-saturated than normally possible.
Pointillism is an extremely challenging style of painting to execute. It requires the intense and sustained use of the eyes in shifting from the palette to the tiny area of the canvas being painted. The pointillist must bend, lean and hold positions for extreme periods of time in order to place the paint with sufficient precision. The physical challenge of the painting style itself has made it very difficult for serious painters of the last 130 years to work proficiently in the pointillist style, Page said.
Using advanced robotics and software platforms, Page has been able to isolate the crippling physical aspects of the painting process and eliminate the toll on the artists body while preserving creative integrity. I achieve a very high level of control over each discrete dot of paint in the composition. This allows me to paint with the precision of a master pointillist painter without the back-aches and strained eyes. Some of my larger-scale paintings consist of nearly a million individual dots of paint, explained Page.
As a film and television actor, Kevin Page has appeared in more than a dozen big-screen movies, including Robocop (1987), The Alamo (2004) and Friday Night Lights (2004). On television, he has been seen on such shows as Seinfeld, where he played NBC executive Stu Chermack, who invited Jerry to pitch his "show about nothing; "Wishbone", where he played 17 different classic characters opposite the dog by the same name; and Dallas on TNT where he currently plays J. R. Ewings henchman, "Bum". In addition to being an artist and actor, Mr. Page was the founding vice president of an investment banking firm as well as a financial manager for the City of Dallas where he pioneered the Citys EB-5 Foreign Investor Program.
We are excited to present Kevins inaugural solo gallery show, said Alan Simmons, president, Alan Simmons Art + Design. He is a dynamic and talented artist, who has created neo-pointillist works that are meticulous, richly textured, and have sculptural quality as well.
Kevins paintings will appeal to art collectors of traditional as well as abstract contemporary art, Simmons added.
For more information about Kevin Page and/or Alan Simmons Art + Design, see; http://www.alansimmons.net/alansimmons.net/artists/Pages/kevin_page.html; http://www.alansimmons.net; https://www.facebook.com/AlanSimmonsArtDesign.
ABOUT ALAN SIMMONS ART + DESIGN
Alan Simmons Art + Design is a fine art gallery and consultancy located in the renowned Dallas Design District. The gallery is open to both the public and the trade.

Owner and president, Alan Simmons, and gallery director, Lindsey Carneal, opened the gallery December 1, 2012 to resounding acclaim. Alan Simmons Art + Design represents local, regional, and international artists and hosts revolving openings on CADD (Contemporary Art Dealers of Dallas) gallery nights.

Alan Simmons Art + Design provides consulting services to architects, designers, corporations, foundations, and private collectors; framing design and production for projects ranging from residences to resorts; and offers art sections and packages for all budgets; including posters, special-value framing, and quantity; among other service offerings. Alan Simmons Art + Design is strongly committed to non-profit art organizations and building enthusiasm for the arts. http://www.alansimmons.net