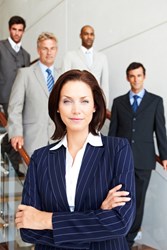 Princeton, NJ (PRWEB) October 31, 2013
With its October 2013 file update ALC B2B has added 82,650 female executives to its database of the nations top executives. Now totaling over 2.8 million women holding mid-to-high level positions, the Executive Masterfile Women Database is available for multichannel marketing campaigns through postal and email addresses, telephone numbers, and digital display advertising.
By many accounts the pipeline for the top spot for women at Fortune 1000 companies is promising. A study conducted by McKinsey & Co. finds that over 24 percent of senior vice presidents at 58 big companies are now women. The National Association of Female Executives 2013 Top 50 Companies for Women includes large corporations such as Aetna, IBM, and Verizon where women now comprise a significant percentage of all senior managers and corporate executives.
Presenting contact information for over 230,000 female business owners, ALCs Executive Masterfile Women Database also reflects national trends in entrepreneurship. The number of women-owned firms is growing at 1.5 times the national average according to the American Express 2013 State of Women-Owned Business Report. The report finds that women-owned firms are exceeding overall sector growth in eight of the 13 most populous industries and have provided a net increase in employment since the depth of the recession from 2007-2013.
Maryann Posten, of ALC B2B, a Vice President herself, notes, Women at companies large and small constitute a powerful audience of B2B decision makers. Business marketers will benefit by addressing this female audience with relevant messaging.
Ms. Posten states, The increase of women on our unique database of the nations top executives is due to the rising ranks of women in management as well as the onboarding of several new data streams to the ALC B2B compilation methodology.
Rates for ordering postal and telephone contact information for these women executives can be found on the Executive Masterfile data page. Rates for ordering email contact information can be found on the Executive Masterfile Email data page.The file is available to direct marketers for new customer, subscriber and membership acquisition efforts. Digital marketers can also reach this audience wherever and whenever they go online with digital display advertising.
For more information contact Maryann Posten, Vice President ALC B2B, by email at maryann.posten(at)alc(dot)com, or by phone at 609-580-2978.