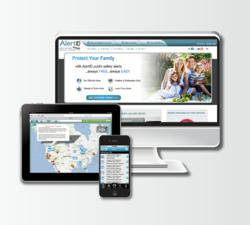 Las Vegas, Nevada and Palo Alto, California (PRWEB) January 31, 2013
AlertID, the leader in making the countrys public safety information universally accessible, today announced that it has moved its corporate headquarters to Switchs InNEVation Center in Las Vegas, Nevada.
Switch is the designer and operator of todays most powerful business technology ecosystems, and it provides co-location, connectivity and cloud services for Fortune 1000 corporations, mid-sized enterprises, start-ups, government agencies and other businesses conducting mission-critical business on the Internet.
AlertID provides mobile and online public safety information services dedicated to helping people protect their families and communities. Alerts are provided by trusted sources including public safety agencies, local law enforcement, schools, neighborhood groups, neighbors, family members and friends, all at no cost to members. This first-of-its-kind, fast-growing network is the leader in helping people protect their families and communities throughout the United States and is poised to evolve into the worlds go-to public safety and security resource.
AlertID is a great addition to The inNEVation Center, said Richard Ethington, General Manager of the inNEVation Center. AlertID is a Nevada company that is helping people protect their families and communities across the country, and we encourage everyone to take advantage of this incredible technology.
We are excited to become a part of Switchs InNEVation Center. The inNEVation Center is the realization of Rob Roys (Switchs Founder and CEO) vision to bring innovative companies, public organizations and the most advanced business technology ecosystems together in one location, said Ken Wiles, AlertIDs Chief Executive Officer. Switchs inNEVation Center offers a unique, collaborative environment that will become the epicenter of technology development.
In addition to AlertID, the inNEVation Centers collaborators include the Nevada Governors Office of Economic Development (GOED), The Las Vegas Metro Chamber of Commerce, University of Nevada, Las Vegas (UNLV), Brookings West, and companies such as Tabeso, Originate, Tracky, Zoom File, Ticket Cake and Gabuduck.
To sign up for a free account at AlertID, or for more information, please go to http://www.AlertID.com. To learn more about Switchs inNEVation Center, please go to http://www.inNEVation.com.
About AlertID

AlertID has proven to help reduce crime, using secure technology to create two-way communication between citizens and Federal, state and local authorities to provide immediate information on crime, terrorism, natural disasters or severe weather that can threaten the safety of families and communities. Thanks to AlertID, more than seventy percent of the United States population (more than 224 million residents) can receive Sex Offender Alerts from State Sex Offender Databases.
In addition, the AlertID Secure Social Network provides everyone concerned about the privacy of their communications on social networks a safe and easy way to share important information quickly with neighbors, public safety groups, law enforcement, and Homeland Security. In many communities, AlertID has partnered with law enforcement agencies to deliver local crime data (CAD) to members. Recent partnerships and collaborations include the Alameda County (Calif.) Sheriffs Office, the Las Vegas Metropolitan Police Department, The City and County of San Francisco, The Nevada Department of Public Safety, Amber Alert and various counter terrorism centers, among many others.
About the Switch inNEVation Center

The inNEVation Center is the first public / private economic diversification effort of its kind. We bring together entrepreneurs, business leaders, mentors, investors, educators and government agencies. Together, our mission is to diversify Nevadas economy by providing the resources and education necessary to start and grow great companies.