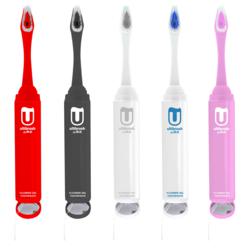 Charlotte, NC (PRWEB) January 17, 2013
The swiss army knife of toothbrushes, UltiBrush, is currently running a crowdfunding campaign on Kickstarter and has sought out experts in the field to assist with campaign promotions and other digital marketing services.
UltiBrush is an all-in-one toothbrush complete with toothpaste, floss, mirror and rinse cup that doubles as a protective cap for those on-the-go. Whether youve just finished working out at the gym, meeting someone for a date or flying across the country, UltiBrush gives you all you need in one, convenient brush.
The UltiBrush packs enough toothpaste and floss for between 40-50 brushes. In travel years, UltiBrush will last quite a while. For business travelers, the UltiBrush is TSA compliant, packing less than 4 ounces of toothpaste in the reservoir. Want to make UltiBrush your regular on-the-go toothbrush? The American Dental Association (ADA) recommends replacing old toothbrushes with new ones every few months, and the UltiBrush was designed to adhere to these ADA guidelines.
We, the Glover family, are excited to live in a time where great ideas can come to life, says Tyler Glover, co-creator of the UltiBrush. The experience Command Partners brings to the table is unmatchable and we are confident they can bring us the results we desire.
Command Partners brings a plethora of Kickstarter and crowdfunding experience to UltiBrush and has a 100% success rate of funding all of their clients Kickstarter projects. Not only do they understand how to attract the Kickstarter community to the UltiBrush project, but they also know how to educate those who arent familiar with Kickstarter
It is great to work with someone who has a lifelong passion, says Amish Shah, managing partner of Command Partners. I think both travelers and entrepreneurs around the world will appreciate the UltiBrush.
For more information on the UltiBrush, visit the products Kickstarter page here: http://bit.ly/UltiPR, where you will find a wide range of rewards in exchange for backing the project. The campaign will end on February 16 at 1:11AM EST and rewards are limited, so pre-order yours today while supplies last.
About UltiBrush
UltiBrush is a 20-year idea of the Glover family that is being brought to market. The UltiBrush is an all-in-one toothbrush that includes a brush, toothpaste, floss, a mirror, and a rinse cup. They are anticipated to ship in the spring of 2013 for travelers, campers, and other people on-the-go everywhere. To learn more about UltiBrush, visit their Kickstarter page at http://bit.ly/UltiPR, Like them on Facebook at https://www.facebook.com/UltiBrush and Follow them on Twitter at @Ultibrush.
About Command Partners
Command Partners is a digital media agency that focuses on driving online visibility and lead generation including social media marketing, search engine optimization, public relations and strategic advisory services. Command Partners works with clients ranging from high-tech startups and e-commerce brands to Fortune 500 companies. The agency is located in Charlotte, North Carolina and works with clients around the globe.
For more information on Command Partners services, visit http://www.commandpartners.com, Follow them on Twitter @CommandPartners and Like them on Facebook at http://www.facebook.com/CommandPartners.