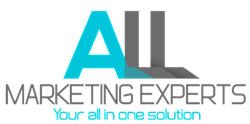 Flushing, NY (PRWEB) October 31, 2014
All Marketing Experts is a boutique firm of marketing consultants specializing in every aspect of an online and offline marketing campaign. The services they offer cover everything from a companys branding strategy, to the use of online tools such as search engine optimization, pay-per-click and email marketing. Created as an all-in-one solution assisting every kind of company, All Marketing Experts provides a comprehensive range of solutions in web and graphic design, social media marketing, research and content creation, photography and video marketing.
The extensive array of services that the company provides from a single source, is what makes them unique along with their capability to work seamlessly with public relations firms and advertising agencies. All Marketing Experts will be aggressively pursuing strategic alliances beginning November 1, 2014. Most of these organizations often dont have the time nor the resources to handle a solid digital marketing campaign. By working on an anonymous, white label basis, the team at All Marketing Experts, is able to carry out the tasks that these types of agencies usually are not equipped to handle, thus increasing their customer base and profits, at no additional costs. What this means for an advertising agency or PR firm, is not having to hire in-house programmers, graphic artists, copywriters, project managers and search engine marketers but having a trusted, partner taking care of those aspects of the business.
Companies looking to expand their online presence and increase their bottom line can visit All Marketing Experts website or call 888-428-7999 for a free consultation and complimentary website audit.
All Marketing Experts

58-17 255th Street Suite L

Flushing, NY 11362

888-428-7999

http://www.allmarketingexperts.com