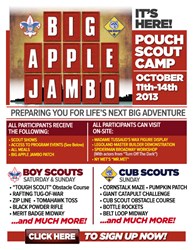 Brooklyn, NY (PRWEB) September 25, 2013
AllCar Rent-A-Car has once again stepped forward to show their support for the Boy Scouts of New York City, announcing today that they would act as a key sponsor for the 2013 Big Apple Jambo celebration set to take place this upcoming Columbus Day weekend.
The event, which will attract thousands of Scouts, Webelos, and Venturers from New York City and the surrounding states, will take place on Staten Island inside the popular Pouch Scout Camp beginning October 13. During the three-day event, Scouts and Cubs will have the opportunity to participate in a number of challenging activities, including a Tough Scout obstacle course, tomahawk toss, and rafting tug-of-war.
The Big Apple Jambo is always a must-attend event for local scout troops, explains Nathan Isherwood, Marketing Manager for AllCar. Needless to say, we were thrilled when presented with the opportunity to sponsor this years event.
Participants in this years Jambo celebration will enjoy access to a wide variety of events, and admission to scout shows. On-site events and attractions include two midways, a wax figure display from Madame Tussauds, a LEGOLAND master builder demonstration, cornstalk maze, and pumpkin patch tours.
Registration for the event is $ 40 for Cub Scout ($ 35 for Cub Scout Leaders) and $ 75 for Boy Scouts and Venturers ($ 60 for Boy Scout and Crew Leaders). Explorers can also attended the Sunday festivities for a reduced admission of $ 40. Admission includes all meals and a limited edition 2013 Big Apple Jambo patch. A secret show has also been planned for Saturday evening, along with a huge campfire, songs, and skits.
The Big Apple Jambo is an event these boys will remember their entire life, says Isherwood. Its a real honor for us to be a part of that.
Scout troops can learn more about the Big Apple Jambo online at http://www.bigapplejambo.com. The eight New York City Districts, with support from the Greater New York Councils, AllCar Rent-A-Car and various other supporters have proudly donated their time and resources to help plan this event.
About AllCar Rent-A-Car

AllCar Rent-A-Car is New York City's premiere rental company. With 12 locations throughout the five boroughs, AllCar is focused on providing the highest quality car rental experience in New York. Book your rental online today at http://reservations.allcarrentacar.com/.