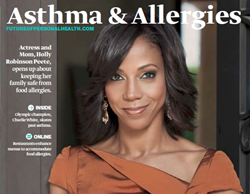 New York, NY (PRWEB) May 01, 2015
The Allergy and Asthma Network is the leading national non-profit for ending unnecessary suffering and deaths due to allergies and asthma, this campaign is taking a look at the new options for patients.
Families tell us daily how they need and want greater access to healthcarewe can think of no better way than by using technologies that are literally at our fingertips every waking minute of every day, says Tonya Winders, president and CEO of Allergy & Asthma Network, about the new concept of telemedicine. Telemedicine is the use of telecommunications and information technologies to provide healthcare from a distance.
The print component of Allergies and Asthma was distributed within the weekend edition of USA Today in the New York, Boston, Atlanta, Pittsburgh, and Cleveland markets, with a circulation of approximately 250,000 copies and an estimated readership of 750,000. Its digital component was distributed nationally through a vast social media strategy and across a network of top news sites and partner outlets. To explore the digital version of the campaign, click here.
The need for accessible healthcare is important for both patients and healthcare professionals. Various health and wellness applications have been created and give the patient and doctor the ability to check vitals, symptoms and communicate with one another. It also cuts down on the need for hospital and emergency room visits. Telemedicine is especially helpful for those suffering from allergies and asthma.
It is an exciting time for families. These technologies will allow us to understand our chronic condition better by recognizing patterns and ultimately intervening before an asthma or allergy flare occurs, Winders shared.

This campaign was made possible with the support of actress, philanthropist and mom of allergy-sufferers, Holly Robinson Peete, Allergy and Asthma Network, AAAAI, Olympic Gold Medalist Charlie White, Dr. Clifford Bassett, and ACAAI.
About Allergy & Asthma Network
Allergy & Asthma Network is the leading national non-profit organization dedicated to ending needless death and suffering due to asthma, allergies and related conditions. Allergy & Asthma Network specializes in sharing family-friendly, medically accurate information through its award-winning Allergy & Asthma Today magazine, E-newsletter, website at http://www.allergyasthmanetwork.org and numerous community outreach programs. Follow Allergy & Asthma Network on facebook.com/AANMA and twitter.com/AANMA.
About Mediaplanet
Mediaplanet is the leading independent publisher of content-marketing campaigns covering a variety of topics and industries. We turn consumer interest into action by providing readers with motivational editorial, pairing it with relevant advertisers, and distributing it within top newspapers and online platforms around the world.