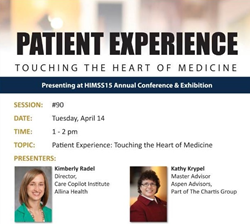 CHICAGO, IL (PRWEB) April 09, 2015
Kimberly Radel, Director of the Care Copilot Institute at Allina Health, and Kathy Krypel, a Master Advisor with Aspen Advisors, part of The Chartis Group, bring the patient experience and patient engagement to center stage with their presentation Patient Experience: Touching the Heart of Medicine at the 2015 Annual HIMSS Conference & Exhibition in Chicago on April 14 from 1:00-2:00 pm. The session will highlight three innovative patient engagement initiatives implemented by Allina Health, giving participants actionable strategies from both a clinical and technological perspective.
Attendees will learn practical ways to incorporate high-touch strategies alongside high-tech solutions to enhance the patient experience and better engage patients to improve outcomes, said Kimberly Radel. In their presentation, Radel and Krypel will share a successful framework for patient engagement as well as strategies ranging from a focus on the relationship to patient incentives and technological engagement. They will also discuss clinical and technological considerations for the patient experience when using an integrated electronic health record.
In the pursuit of what is best for patients, there is a lot of talk about technology as the solution to save lives, time and money, said Kathy Krypel. An electronic portal, for instance, is often thought of as the patient engagement solution when it is only one tool and a means to an end. We must not lose sight of what it really means to enlist the patient as an active participant in his or her own care. Kimberly Radel adds, The patient engagement initiatives at Allina are truly exciting approaches. We are successfully enlisting patients as active participants in their own care. By sharing examples of our work at Allina, we hope to highlight what is possible and offer pragmatic take-a-ways for the audience to use in their own organizations as they continue to develop patient engagement strategies and materially improve the delivery of healthcare.
HIMSS is recognized for its quality and relevant programming. At HIMSS15, speakers share their expertise during our pre-conference and conference educational sessions, said JoAnn W. Klinedinst, CPHIMS, PMP, FHIMSS, vice president, professional development, for HIMSS. I congratulate our HIMSS15 Annual Conference Education Committee that selected our final speakers as well as all presenters who will be part of our extensive and diverse programming schedule.