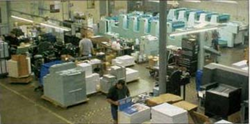 Tampa, FL (PRWEB) March 16, 2015
Since 1996, ALLPRO Direct Marketing has been able to more than triple its annual revenue, despite the recessionary pressures of the late 2000s. In 2014, the company announced they had reached the $ 8 million-a-year revenue milestone, making them one of the largest printing firms in the Tampa Bay region an area that is the 11th largest statistical metropolitan area in the United States.
Like many printing firms throughout the Southeast, the recession forced ALLPRO to do more with less, offer more value-added services and become even more competitive often with a severely reduced staff. For ALLPRO, the recession was also an opportunity to invest in the tools and technologies needed to diversify and distance themselves from the offerings of other Bay Area-based printing companies. Today, ALLPRO is an $ 8 million a year business dependent upon technology and product reinvention.
Founded in 1982 and purchased by Tom McLaren and Shean Hylton in 1996, ALLPRO is a leading service provider for the direct mail marketing industry. Since 1996, they have executed millions of direct mail marketing campaigns for the insurance, automotive, education, and service industries. Over the next five years, ALLPRO will have invested more than $ 4 million in its technology infrastructure. They have added a $ 1 million Xerox iGen 150 Press digital printing press and new services like converged marketing to its client toolkit.
Its very exciting to reach this revenue milestone. Our goal is to be at $ 10 million a year by 2018, said Tom McLaren. I believe offering new services, like converged marketing, is what will get us there.
ALLPRO is highly involved on the US Postal Forum and other advocacy groups for the direct mail marketing industry. Through on-going participation in NAFA, the National Association of Fixed Annuities, and took on leadership roles within their Education Committees and through assistance in policy crafting. This, in turn, led them to other vertical providers, like insurance companies and brokers.
ALLPRO is constantly updating their equipment for faster, more efficient delivery of consistently high-quality products, said Scott Hinds, director of membership and development for the NAFA. But what we really admire is their reliability. We congratulate them on experiencing such positive growth. Andrew Paparozzi, vice president and chief economist for the National Association of Print Leadership, agrees with the ALLPRO approach to growth.
When nothing much is changing, finding better ways to do what weve always done is good enough. But our industry isnt simply changingits being redefined, making it essential that we plan effectively, based on all favorable business intelligence that can be gained from the marketplace to the shop floor, said Paparozzi.