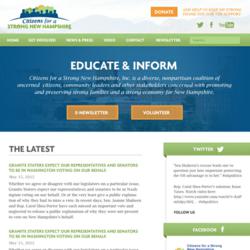 Bedford, NH (PRWEB) July 02, 2013
Altos Marketing, a Bedford-based digital marketing agency, recently unveiled a new website for Citizens for a Strong New Hampshire, a local activist coalition headquartered in Manchester. In addition to StrongNH.com, Altos Marketing has designed websites for other political advocacy groups throughout the state.
From the very beginning, Altos Marketing was willing to go the extra mile on the development of StrongNH.com, said Derek Dufresne, spokesman for Citizens for a Strong NH. Their team ensured the product we received specifically met our organization's needs and yielded us a website that has helped us promote our ideals, recruit more volunteers, and effectively spread our message to more Granite Staters.
It was a great opportunity to help StrongNH.com deliver their message through the website, Facebook, Twitter, and YouTube, James Basbas, Vice President of Altos Marketing, said of the project.
StrongNH.com features media and press coverage, volunteer and newsletter signup forms, blogs and fully integrated video and social media functionality. The website also includes a user-friendly navigation system so that interested parties can easily make donations or contact the coalition.
Altos Marketing is a full service digital marketing agency which specializes in web design, SEO, social media, and internet marketing for businesses primarily throughout New England. For more information on Altos Marketings services and recent projects, visit http://www.altosmarketing.com.
About Altos Marketing:

As a brief introduction to Altos Marketing, we are a mid-sized, Bedford, NH-based digital marketing agency that enjoys a diverse set of clientele in and around New England. Our chief competencies revolve around Web Design & Development, Hosting, Search Engine Marketing & Optimization, Social Media Marketing, Email Marketing and application programming. Our core values are to provide an exceptional set of digital marketing services leveraging a highly consultative and collaborative approach that result in long-lasting professional relationships.
Over nearly 10 years, we have assembled a highly-skilled and passionate team of design, development and marketing experts. We've assisted hundreds of businesses in a highly broad set of industries in both for-profit and nonprofit sectors to assist at meeting their strategic marketing initiatives.