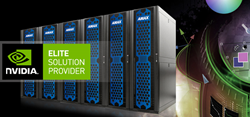 FREMONT, CA (PRWEB) March 18, 2015
AMAX, a leading provider of HPC and Data Center solutions, today announced that it has achieved Elite Solution Provider status in the NVIDIA Partner Network program.
Specifically, the designation recognizes AMAXs achievement in the Accelerated Computing Competency, which includes technical expertise; customer service; and the ability to design, implement, and maintain best-in-class accelerated computing solutions from NVIDIA.
The NVIDIA Elite Solution Provider in Accelerated Computing Competency recognizes partners who design, deploy, and support parallel computing, HPC (high performance computing), and other accelerated computing markets such as big data processing/analytics.
The Accelerated Computing Competency encompasses system solutions, infrastructure management, and communications. It includes the following NVIDIA products and technologies: Tesla