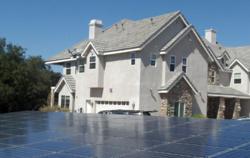 Murrieta, CA (PRWEB) October 31, 2012
"Finance options for solar PV are getting better all the time," said Kelly Smith, President of Ambassador Energy. "PACE financing is especially interesting. PACE allows owners of homes and commercial buildings to install solar and defer the costs via their property tax roll. The cost of solar, added to their tax bill, is less than what they would have paid their utility, so the outcome is a real win for the end-user. In most cases, they can amortize the cost out 5, 10, 15 or 20 years. And it can be transferred to the new owners, should the property be sold within that time."
One of Ambassador Energys newest customers is co-founder of College Works Painting and author of Contractors Survival Guide, Jason Reid. He and his wife own a large home on five acres in Western Riverside County and had SoCal Edison bills often exceeding $ 1000 per month. He opted to utilize WRCOGs PACE financing, called the HERO Program.
As a business owner, I am often tasked with determining the best way to pay for an asset, Reid said. In this case, since I needed a solar system of pretty good size, I opted to use someone elses money. The HERO program covered the cost of the system and gives me the option to pay it off in 5 or more years. I like the ability to own my own system, instead of leasing, like many consumers do today. Once I pay off HERO, I will have nothing but up-side for the rest of the 40-50 years my system is operational.
In addition to the HERO Program in Riverside County, the California First program is now active, offering PACE financing in many other cities and counties throughout California.
For customers who do not choose or qualify for PACE, solar loans and leases are viable options, said Smith. And, as always, the cheapest way to pay for capital improvements is cash, if you have it. But, since most of us during these precarious times dont have it, or in the Reids case, dont choose to use it, the good news is that there are many payment options. Going solar has never been easier. At the end of the day, it usually costs less to go solar than to continue to pay the utility company. Thats a good thing, and thats why we are expanding our external teams. We are all about spreading the good news.
About Ambassador Energy

Ambassador Energy [AE] has a three-pronged business model, including Ambassador Energy College Solar Training, the Ambassador Energy Agency Program and Ambassador Energy, an EPC contractor. On staff are NABCEP Certified PV Installers, NABCEP Certified PV Technical Sales professionals [Fulgham/Kelso] and multiple NABCEP EL graduates. AE Agencies are nationwide. Ambassador Energy EPC installs PV systems throughout California.
See Ambassador Energy on Facebook.