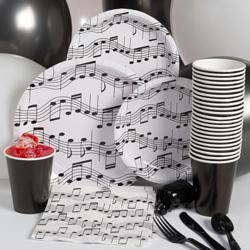 South Whitley, IN (PRWEB) April 12, 2013
Since the early days of television, with shows like The Original Amateur Hour which migrated from radio to TV in 1948, Americans have loved watching amateur musical talent from the comfort of home. But it was over 50 years later before the genre became a hit. American Idol debuted during the summer of 2002 and gave television audiences the first opportunity to vote for their favorite artists each week.
American Idol kicked off a national craze that inspired many local communities to host their own vocal competition parties, observed Keith Bansemer, Director of Internet Marketing at Shindigz. Weve seen a growth in sales of music themed decorations each year since Idol debuted.
Over the past decade, several shows have challenged American Idols dominance, including Americas Got Talent, X Factor, and now The Voice. Television producers never disclose exactly how many total votes their shows receive, but millions of viewers are believed to participate each week. Recently, TV ratings have given The Voice a slight edge in total viewership to take the show to the top.
Shindigz, a leading seller of party supplies, conducted a nationwide online poll to see if American Idol has lost its luster and the results were conclusive. The Voice captured 62.5 % of the votes, compared to 17.5% for American Idol when voters were asked, Whats your favorite music reality show? The remaining votes were divided between Americas Got Talent and X-Factor, which are both on hiatus this season.
About Shindigz

Shindigz makes life more fun for 23 million events through the manufacture and sale of unique and personalized party supplies. It ships products from its facilities in South Whitley, Indiana across the United States and around the world to 59 countries. With more than 34,000 products and 25,000 personalized items, Shindigz has provided customers with complete party solutions since 1926.