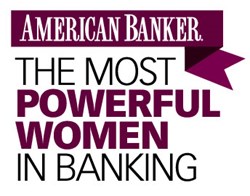 (PRWEB) September 18, 2013
American Banker has announced its 2013 Most Powerful Women in Banking and Finance, awarding top honors in banking to KeyCorp Chairman and Chief Executive Officer Beth Mooney.
Mooney made history in 2011 as the first female to become Chairman and CEO of a top 20, U.S.-based bank, and has since made bold moves to grow Keys revenue and enhance productivity and innovation.
"I thank American Banker for this tremendous honor and congratulate all the women on this year's lists. I share this award with all of my colleagues at Key. Diversity and inclusion have been an important part of how Key does business for many years and it helped drive our company's achievements. The American Banker list is a testament that success in business is possible when we foster and celebrate diverse ideas and individuals."
Irene Dorner, group managing director of HSBC Holdings and the president and chief executive officer of HSBC USA, placed second on this years ranking. Dorner, who topped the 2012 list, has won high praise for her efforts to tackle risk management issues. Wells Fargos Carrie Tolstedt, who topped the list in 2010, rounded out the top three for 2013. Tolstedt is senior executive vice president of community banking, in which role she oversees 105,000 employees, a network of 6,200 branches and 12,000 ATMs, and Wells online, mobile and telephone banking services.
American Banker also recognized Mary Callahan Erdoes, the CEO of JPMorgan Asset Management, and Karen Peetz, who was promoted this year to president of BNY Mellon, with top spots in the 25 Most Powerful Women in Finance and 25 Women to Watch rankings, respectively. The Women in Finance ranking recognizes executives in wealth management, investment banking, private equity and other sectors outside traditional retail and commercial banking. The 25 Women to Watch includes both emerging female talent in banking and industry veterans who have taken on new roles within the past year.
American Banker also each year assembles a list of institutions where female leadership teams are having a significant impact on performance, and where there is a high level of commitment to the development and promotion of female talent. The Top Teams in Banking this year are Wells Fargo, BMO Financial Corp., Huntington Bank and Zions Bank.
The complete annual rankings, now in their 11th year, are available online at AmericanBanker.com/women-in-banking and will be featured in the October issue of American Banker Magazine.
All of this years honorees will be celebrated at an Oct. 10 dinner and awards ceremony at the Waldorf Astoria in New York City, hosted by American Banker and parent company SourceMedia. The ceremony will include special recognition for two additional executives: