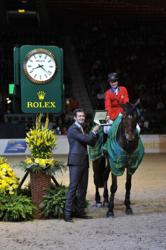 (PRWEB UK) 26 April 2013
Americas Beezie Madden and Simon won the first competition of the Rolex FEI World Cup Jumping Final 2013 at Gothenburg, Sweden tonight. In a field of 39 starters from 17 countries, the 49-year-old from Cazenovia, New York produced the quickest run when 17th to go with the Dutch-bred gelding Simon, stopping the clock in 62.28 seconds to set a target that could not be bettered.
Runner-up was Switzerlands Pius Schwizer whose record in the prestigious Rolex Final includes third place in 2012 and equal-second in 2010. And, pleasing the home crowd, Swedish hero and reigning FEI European champion Rolf-Goran Bengtsson slotted into third tonight.
Rewarded
Course designer Uliano Vezzani set a clever track that rewarded those prepared to attack the course and take all the tight turns. The curved shape of the Scandinavium Arena encouraged him to include a range of bending lines, but the biggest test of control came after the second element of the double of verticals at seven. Most riders managed to turn sharply left-handed here to take a line inside the third fence en route to the following double at fence eight, as neatly demonstrated by the pathfinding partnership of Olympic champion Steve Guerdat and Nino des Buissonnets from Switzerland. But their round also revealed the risks of the temptation to gallop down to the final vertical at fence 13 where they were penalised along with many others.
With time added for fences down or other errors of course it would take good, clean jumping to ensure a place at the top of the order, although Americas Charlie Jayne and Chill R Z were so speedy that they still managed to secure 11th place despite faulting at the last. US riders were highly impressive, filling five of the top 13 finishing spots at the end of the day, but for defending champions Rich Fellers and Flexible the dream of a back-to-back double already seems to be shattered.
Firing on All Cylinders
They were firing on all cylinders until turning to the penultimate double, vertical to oxer. Fellers came around the third fence so quickly on the approach that the 17-year-old stallion seemed to be taken by surprise by the double and scrambled through the first element before grinding to a halt at the second. They composed themselves and finished without further drama, but the mistake was very costly indeed as they are lying in 34th place going into tomorrows second day of competition.
Schwizer enjoyed the advantage of a late run when, second-last to go with Verdi, but his great round which earned him second place only served to demonstrate just how fast Madden had been, as his time of 62.79 left him more than a second shy of her target of 62.28.
Bengtsson had the disadvantage of being just the fourth rider into the arena with the stallion Casall La Silla, but as he said afterwards, when you go early you just have to be as quick as you can. I was very happy with the horse, I finished in the area (on the leaderboard) where you need to be at this stage in the World Cup Final. I liked the way my horse jumped, I got my round really the way I wanted it. I would have been disappointed to have been faster but to have a fence down. I decided before I went in how it should be – you make your plan and stick to your plan and do your best, thats all you can ever do, he said wisely.
Great Round
It was Portugals Luciana Diniz who slotted into fourth with a great round from the 12-year-old Lennox who has been continually growing in confidence throughout this winter season, while Spains Sergio Alvarez Moya and Carlo also looked very special when claiming fifth place. However the happiest man of the day seemed to be Kevin Staut whose face was a beam of delight after steering the great mare, Silvana HDC, into sixth. The Frenchmans form in the Rolex FEI World Cup Jumping series over the past few seasons has been incredibly consistent and somehow it seems it just might be time for his light to shine.
Swedens Jens Fredricson and Lunatic finished seventh, with Penelope Leprevost and Nayana in eighth for France ahead of Katie Dinan and Nougat du Vallet in ninth and fellow-American McLain Ward and Super Trooper de Ness in 10th.
History shows that a prominent placing in the opening speed class is essential to remain in contention for the Rolex title and, last man in, Christian Ahlmann from Germany knows all about that. But his chances were blown tonight in almost a perfect replay of Fellers unfortunate error when he also turned so tight to the penultimate double that his 2010 champion ride, Taloubet Z, ground to a halt with surprise.