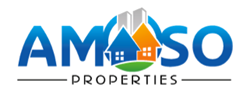 (PRWEB) October 02, 2014
As of September 29, Amoso Properties will be changing their website's URL. Formerly "amosoproperties.com," the new URL will be http://www.amosoproperties.net. The St. Louis property management company hopes that this change, part of over two months of online renovations, will reflect the business's new and improved online presence.
Amoso Properties has put a significant amount of effort into creating a more informative, comprehensive website for their client. As a result, the company has recently started running an active blog, which is typically updated at least two or three times a week. Blog posts typically cover a variety of topics that many homeowners and renters will likely find useful and interesting.
"We are probably the most active property management blog in the metro area," said Joe Ord, President of Amoso Properties. "We run posts on home improvement tips, land lording tips, fun attractions around St. Louis for tenants that live in the area, anything related to the household.
The new website URL is demonstrative of this desire to create a better online experience for users through blogging and other online resources. Amoso Properties is being assisted by Leap Clixx and AppFolio to accomplish this change in their web address.
Ord and the employees at Amoso Properties are excited to see what the new URL and other changes could mean for their company.
We thought the domain needed a fresh look," said Ord. It will also be easier to find us after the change because we'll be better rated on Google.
Website quality is a deciding factor which helps search engines like Google generate and rank useful websites for their users. Accordingly, more people will probably find themselves being directed to http://www.amosoproperties.net in the future as a proven resource for home improvement tips and more.
About Amoso Properties:
Amoso Properties is a property management company located in St. Louis, handling various types of partners and helping all of them to participate in the growing investment property market. To learn more, visit amosoproperties.net.