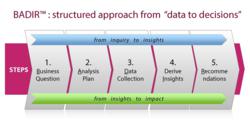 San Francisco, CA (PRWEB) October 10, 2012
Calling Marketing, Product and Data Analytics Professionals in B2C companies who are looking to get more business impact out of all their analytics calorie spend. Come learn what is really key to succeed, from Aryng founder and experienced industry professional, Piyanka Jain, who in her past analytics career, drove $ 200M+ of business impact at Paypal, Adobe, and other companies.
Employees from Groupon, Symantec, Bank Of America, Boston Scientific, Chevron, IMVU and others attended Aryngs Data to Decisions introductory 1 day course last week, which also serves as a pre requisite to the upcoming 2 days Hands-on Analytics workshop being held in Santa Clara, CA on October 18th and 19th.
This workshop builds on the analytics vernacular and overview of BADIR 5-step analytics framework that was covered in the introductory DTD 102 course and dives deeper into the BADIR framework using examples, exercises and role-play. Day 2 of the workshop takes participants through a case simulation to further solidify skills to leverage analytics for smarter decision making.
The key takeaways for this workshop would be:

1. Hands-on comfort in driving decisions based on data using Aryngs proprietary BADIR framework. Learn analysis techniques Aggregate analysis, Correlation analysis, Trend analysis and Sizing analysis, and soft skills – effective influencing and cross-functional skills to convert data to insights and drive impact.

2. Learn how to make successful business case for a new product/feature launch with limited historical data. Also learn to effectively present it to peers and management.

3. Learn how to get an impactful KPI/Marketing Dashboard to run your business with.

4. Learn how to do actionable analysis using Excel pivot tables, functions and charts

5. Learn how to prioritize between different projects based on prioritization framework.

Registration at http://www.aryng.com/landing/DTD20X-Hands-on-Analytics-Workshop-Oct-18.html
Participants are suggested to have taken Aryngs DTD 102: Business Impact through Analytics Workshop or equivalent. To satisfy this requirement, the DTD102 course is also available online at a low introductory price of $ 299.For more details go to: http://www.aryng.com/online-analytics-training.html
About the company: Aryng provides analytics training and consulting to empower professionals from B2C organizations to leverage their data to design better product, better customer experience, delight their customers and beat the competition. Details at: http://www.Aryng.com