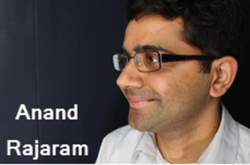 Seattle, WA (PRWEB) March 20, 2013
The next big event for the Seattle Hubspot User Group (Seattle HUG) is scheduled for April 11, 2013. The purpose of the event is to help those in business understand how inbound marketing is an increasingly critical tool in transforming the performance of their marketing spend. The event will be held at the Embassy Suites in Seattle and include dinner and a special presentation.
Special guest speaker, Anand Rajaram, an expert with inbound marketing and Hubspot software is making a special trip from Boston. Anand Rajaram is a product manager at Hubspot and co-founder of OfficeDrop.
HubSpot all-in-one marketing software helps more than 8,000 companies in 56 countries attract leads and convert them into customers. A pioneer in inbound marketing, HubSpot aims to help its customers make marketing that people actually love.
Inbound marketing is a method companies use to advertise which can include blogs, podcasts, video, eBooks, e-newsletters, articles, whitepapers, SEO, social media marketing, and other forms of content marketing. Instead of buying attention, inbound marketing is a new alternative to earn the attention of potential customers. The new trend for companies to use inbound marketing as they adapt in order to get found and draw customers to websites by producing interesting content.
The Seattle HUG event is open for anyone interested in inbound marketing or Hubspot. The Seattle HUG leader and Inbound Marketing Pro Michael Hartzell says "Attendees always have big take-aways at these events. It is a perfect time to connect, collaborate, celebrate and stir up creativity. Historically the rooms is full of a diverse group of both business owners, executives and marketers."
A year ago, Rebecca Corliss was the special guest speaker from Hubspot and the attendees response was "awesome, energetic, informative, very valuable and well worth the time."
On April 11th, Anand will share his unique perspective on the changing culture of inbound marketing, HubSpot 3, Social Media Marketing, Mobile Marketing, SEO and answer Internet marketing questions in the new world of media. Michael Hartzell says: "As a co-founder of Office Drop and now a product manager at Hubpsot, Anand Rajaram is the right person for the Seattle HUG event. The inbound marketers in Seattle are advanced thinkers and will appreciate his depth of expertise with both strategy and software."
Event information:
When: 5:30 PM on April, 11, 2013

Location: Embassy Suites, 15920 West Valley Highway, Seattle, Washington, 98188

Event includes dinner, wi-fi, presentation and networking.
Where to register for the event: http://411inboundmarketingseattle.eventbrite.com.
About the Seattle Hubspot User Group (Seattle HUG):
The HubSpot Seattle Area User Group is composed of marketers and small business owners who are interested in inbound marketing, and want to benefit from sharing ideas, networking, and mastering the HubSpot software. Michael Hartzell has been a user group leader since November 2011. The group meets about once a quarter in the Seattle area with one BIG event once a year. For more information email: michael(at)seattlehug(dot)com