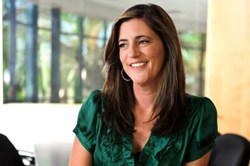 Poway, CA (PRWEB) August 01, 2013
Anderson Direct Marketing (ADM) is pleased to announce that Alexandra Walsh has been promoted to Director of Agency Services. Walsh has been responsible for guiding the companys agency through a period of triple-digit growth and dynamic change. She has had a hand in all hiring decisions for the agency to make sure ADM has the right mix of personalities and has helped to create a strong corporate culture. She has a knack for connecting the right team members with the right clients and nurturing these relationships for mutual success.
Alex has done an extraordinary job of building one of the best agency services teams in the direct marketing industry. She has demonstrated a keen ability to attract top-notch talent and a tireless dedication to ensuring our clients receive the best service possible. Alex has been instrumental in leading the implementation and growth of the Interactive Services department at ADM, said ADMs Executive Vice President Scott Hopkins. Alex always remains calm during the storms and is a strong leader here at ADM.
With Anderson for 9 years, and in the industry for over 20, Alex has made numerous contributions to Andersons overall success as a company both in a leadership capacity as well as a seasoned direct marketer.
My favorite part of my job is to nurture well-rounded employees who will be successful in both their personal and professional lives, commented Walsh on her time at ADM. I have felt very fortunate to work with such a loyal, hard-working group of people and am very proud to have the opportunity to manage them.
###
Anderson Direct Marketing is a vertically integrated direct marketing company providing complete campaign development and production services in-house. Services include campaign strategy and development, creative, media and lists, database, data processing, e-marketing, SEO and SEM, direct mail and collateral production, digital and offset printing, lettershop, response capture and ROI analysis. ADM is ranked as one of the top 20 DM agencies in the country by DM News. For more information on ADM, visit: http://www.andersonDM.com.