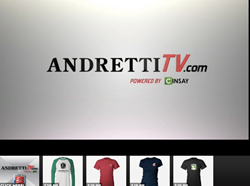 Austin, TX (PRWEB) April 02, 2014
Cinsay and AndrettiTV.com will stream live, HD video of events at the Red Bull Global Rallycross Media Day on Wednesday, April 2nd. Online and mobile viewers can log on to share in the official pre-season event and hear exciting announcements from Global Rallycross officials.
The event will feature live video stream of the formal presentation scheduled at 11:30 AM PST. Featured and exclusive video content coming soon to AndrettiTV will include: interviews with Scott Speed about the upcoming GRC season with VARX, a tour of Speeds new No. 77 7UP sponsored VW race car and other activities taking place during the media day event.
Currently, AndrettiTV viewers can watch dozens of different video streams including live video of the Andretti racing headquarters where cars are built and fine-tuned before each race as well as recent footage from the IndyCar Firestone Grand Prix of St. Petersburg. Each video feed is powered by Cinsays Video Smart Store (VSS) and hosts a wide range of branded Andretti apparel and merchandise, which is built right into the video. Cinsay On Demand provides the high quality merchandise thats manufactured on demand and in the USA for each order purchased within the video.
Im really excited to have AndrettiTV live stream the Global Rallycross media day, were hoping to announce some great news for the series and for the upcoming season. Its been fun to watch AndrettiTV and see how the other Andretti drivers are progressing hopefully I look better than Hinch!" shared Scott Speed.
Everyone at Cinsay is thrilled to be part of the Red Bull Global Rallycross event, said Christian Briggs, founder and CEO of Cinsay. Working with AndrettiTV on this race is perfect as we can reach and interact with more race fans who are interested in different categories of racing while delivering entertainment and branded eCommerce to them in real-time via the web and mobile devices, Briggs added.
Viewers of the event can also share the video directly into their Facebook timelines, along with commenting and sharing on Twitter, Google and other social media sites.
To watch and interact online, follow hash tags, #AndrettiTV and #GRC and profiles: @FollowAndretti @Cinsay @AndrettiTV
Below is the planned Video Stream Schedule for the Red Bull Global Rallycross in Santa Monica, CA. Follow AndrettiTV.com for schedule updates and changes.
Wednesday, April 2, 2014
11:30 AM PST Red Bull Global Rallycross formal presentation
About Andretti Autosport
Based in Indianapolis and led by racing legend Michael Andretti, Andretti Autosport boasts a wide racing portfolio rooted in tradition and designed for success. Together with Andretti Formula E and Volkswagen Andretti Rallycross, Andretti Autosport fields multiple entries in the IndyCar Series, Indy Lights and the Pro Mazda Championship, along with entries in the FIA Formula E Championship and Global Rallycross. The company boasts three IndyCar Series championships (2004, 2005 and 2007), two Indy Lights titles (2008 and 2009), one Pro Mazda championship (2013) and one USF 2000 championship (2010) and has twice captured victory at the famed Indianapolis 500 (2005 and 2007). To share in the Andretti story, please visit online at AndrettiAutosport.com or AndrettiTV.com, and follow along on Twitter via @FollowAndretti.
About Cinsay, Inc.
Austin-based Cinsay has built the worlds first and only multi-patented social video e-commerce for any size business. Cinsay's technology enables anyone to sell products, display printable coupons, capture donations, and generate leads all inside its Video Smart Store (VSS) technology. Along with being the premiere video commerce provider for small and medium businesses, Cinsay is adding new exclusive content channels for sports, music and movies with merchandise and products being displayed.
Forbes named Cinsay one of "America's Most Promising Companies" while eTail Conferences named Cinsay a "Rising Star" in innovation for 2012. Cinsay's eCommerce video-based platform can be used for any individual or business. For more information please visit http://www.cinsay.com or call 855-725-2462.
One or more of the following patents may protect Cinsay's software, systems, and/or services. See http://www.cinsay.com/patents. U.S. Patent Nos. 8,312,486, 8,533,753 and 8,549,555 for interactive Internet-based video applications.