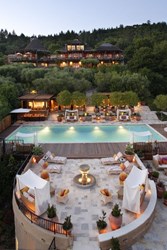 Mill Valley, CA (PRWEB) September 23, 2013
Auberge Resorts properties are the choice of Andrew Harpers Hideaway readers, according to the publications newly released 2013 Reader Survey, which showcases subscribers favorite hotels and resorts worldwide. All eligible resorts in the Auberge collection were among an elite group of properties recognized as among the very best in their categories.
The results are based on the annual independent reader survey in which Andrew Harpers discerning subscribers vote for their favorite hotels and resorts in the categories of Beach, City, U.S. Hideaways, International Hideaways, Food and Wine, Spa, Golf, Safari and Family-Friendly. This year, 136 hotels in 115 destinations appear on the lists, which are featured in the September digital edition of Andrew Harpers Hideaway Report.
Auberges Napa Valley flagship Auberge du Soleil and its East Coast counterpart, The Inn at Palmetto Bluff, South Carolina, were voted No. 5 and No. 12 on the list of 20 Top U.S. Hideaways. All three Napa Valley resorts, Auberge du Soleil, Calistoga Ranch and Solage Calistoga, were ranked among the Top 20 Food and Wine Resorts worldwide.
Auberge du Soleil was again honored, as No. 6 among the Top 20 Spa Resorts worldwide. Esperanza, an Auberge Resort in Los Cabos, Mexico, was ranked No. 6 among the Top 20 Beach Resorts and No. 6 among the Top 20 Spa Resorts. The Inn at Palmetto Bluff received additional honors as one of the Top 20 Golf Resorts and one of the Top 20 Family Resorts.
We couldnt be more delighted with this recognition from Hideaway Report readers, who are well-traveled and discerning, said Mark Harmon, CEO, Auberge Resorts. We believe we have created something very special at our properties. Its inspiring to know that this audience values our resorts so highly.
"Hideaway Report readers are very loyal to their favorite hotels but they are also keen to experiment and to be adventurous, said Andrew Harper. Much of the pleasure I derive from editing The Hideaway Report stems from the awareness that my readers are active travelers with both the inclination and the financial means to follow in my footsteps.
For a full list of winning properties and a complimentary download of the issue, visit http://www.andrewharper.com/2013-readers-choice-awards.
About Auberge Resorts
Auberge Resorts is a collection of exceptional hotels, resorts and private clubs, each with a unique personality that assures a memorable guest experience. While Auberge Resorts nurtures the individuality of each establishment, all are characterized by a set of communal elements: intimate, understated elegance; captivating locations that inspire exceptional cuisine and spa experiences; and gracious yet unobtrusive service. Among the Auberge collection of distinctive properties are: Auberge du Soleil, Napa Valley, Calif.; Calistoga Ranch, Napa Valley, Calif.; Solage Calistoga, Napa Valley, Calif; Esperanza, Cabo San Lucas, Mexico; The Inn at Palmetto Bluff, Bluffton, S.C.; Hotel Jerome, Aspen, Colo.; the Malliouhana Hotel & Spa, Anguilla; and The Auberge Residences at Element 52, Telluride, Colo., and Pronghorn Resort, Bend, Ore., with several others currently in development. For more information about Auberge Resorts, please visit http://www.aubergeresorts.com/. Follow Auberge Resorts on Facebook at facebook.com/AubergeResorts and on Twitter at @AubergeResorts.