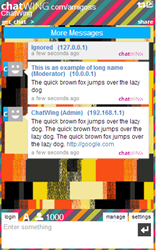 San Diego, CA (PRWEB) December 21, 2013
As the premise of online marketing continues to grow, Chatwing Development Team resumes its expansion to several communities. Recently, the company has introduced a new Android widget that can be used efficiently for online marketing purposes.
The Chatwing chat widget software is a simple and user-friendly tool that can help blogs and websites generate continuous traffic. It can also bring exposure to any product or service. To use the chat app, the user just needs to register with his email address and desired password. After that, he can now create the first chatroom in the account dashboard.
Chatroom creation can be done in a matter of seconds. In fact, Chatwing chat software already has a default chatroom for every account. This is to speed up things and helps users achieve communication leverage right away. The customization process is also considered as one of the strong factors of the chat software. There are various functions that the user can rely on. With these functions, the user can create all types of website chat rooms according to his preferences.
Android marketers can also use the Chatwing widget to increase the potency of their subscriber groups. The widget is equipped with different social media login methods: Facebook, Twitter, Google, Yahoo, Tumblr, and Instagram. These login methods have raised the chat tools flexibility level by more than 60%.
Chatwing Team expects that more Android users will use the chat app for their online goals. The developers are now working round-the-clock to ensure that the widget will experience lesser technical errors.
About Chatwing.com
Chatwing.com is a company that has brought innovation to the modern chat widget. Operating for more than five years now, Chatwing and its team of developers have dozens of ideas ready to be introduced to the public. The Chatwing chat app is an easy-to-use online tool that can help web users interact with each other and can also generate continuous traffic. Chatwing will always be a "freemium" application for everyone.