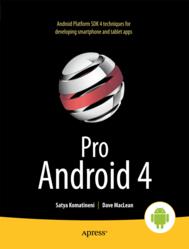 New York, NY (PRWEB) March 07, 2012
Fresh off the heels of being awarded a featured spot on Intels Recommended Reading List for Developers for "Pro Android 3," acclaimed authors Satya Komatineni and Dave MacLean are back with their latest take on the mobile platform with Pro Android 4. Just released by Apress Media, this new edition promises to give users an advanced mobile resource that will guide them in creating apps with wow-factor on the worlds fastest growing mobile platform. This means that apps developers have a multitude of opportunities to showcase their innovations.
Pro Android 4 offers app developers a chance to get the most out of the latest versionAndroid 4, Ice Cream Sandwichand it covers everything from the fundamentals of building apps for embedded devices, phones, and tablets to advanced concepts such as custom 3D components and multi-tasking. Using the tutorials and expert advice within, readers will quickly be able to build slick mobile apps and run them on dozens of Android-based smart phones. Developers will explore and use the Android APIs, including those for media and sensors. Theyll learn how to build irresistible standard and custom User Interfaces and User Experiences across Android devices and location-based services.
After reading Pro Android 4, developers will gain the knowledge and experience to create stunning, cutting-edge Java-based Android 4 apps that will get noticed in the marketplace and bring in revenue. Using Content Providers, users will populate their application with data from data sources. They will also become well versed in Androids location-based services, network-based services and security. Best of all, they will learn how to create 3D graphics with OpenGL and custom components, as well as build multimedia and game apps using Android's media APIs and OpenGL. This must-have resource is for professional software engineers and programmers who want their ideas and applications become a success in the mobile space with Android.