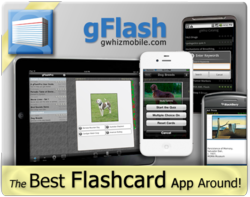 Annapolis, MD (PRWEB) November 19, 2012
gWhizs flagship flashcard app, gFlash, is everything a mobile flashcard app should be, and more. gFlash offers users a fun and much more engaging way to study – on the go and wherever life takes them. With well over a million downloads by individuals and educational institutions, gFlash has redefined mobile learning on both the iOS and Android platforms.
With this latest release of gFlash+ for Android, users now have direct access to high-value test prep content from top educational publishers right on their device. The growing list of participating publishers includes market leaders such as Wiley, Kaplan, McGraw-Hill, Barrons and more. With topics available for a comprehensive array of exams, including SAT, GRE, Advanced Placement (AP), MCAT, NCLEX and much more, students from all walks of life will find gFlash+ to be an indispensable learning tool.
Here at gWhiz we are committed to continual improvement, ensuring that our mobile educational applications remain the best-in-class, remarked gWhiz founder, Kevin Reville. By improving the Android version of our popular gFlash+ flashcard app, we allow users direct access to select test-prep content from expert educational publishers, providing for a much more engaging and productive study experience from start to finish.
Long recognized as the best free flashcard app on the market, gFlash+ offers users a robust platform for creating, downloading, and manipulating flashcards in every subject under the sun. Users will appreciate the new premium publisher content as well as existing features allowing them to create and share their own flashcard sets through Google Docs and download existing sets from the gWhiz Catalog and other libraries. The new features combined with its innovative implementation of flashcard boxes make gFlash+ an essential study aid for students of all ages.
About gWhiz

Launched in 2008, gWhiz has established itself as a leading provider of engaging mobile educational applications. The company is focused on developing innovative educational software to foster a lifetime of learning for professionals and students of all ages. With hundreds of titles currently available on many platforms including the Apple's iOS devices, Android (including the Kindle Fire and Nook), BlackBerry, and Netbooks, the companys depth of experience is unmatched in the industry. gWhiz believes that contemporary mobile technology provides a unique opportunity to offer powerful, entertaining, on-the-go learning and student collaboration tools. For more information, go to http://www.gwhizmobile.com or visit us on Facebook or Twitter.