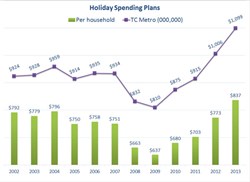 Minneapolis and St. Paul, MN (PRWEB) November 20, 2013
Optimistic Twin Cities holiday shoppers are continuing to rebound from their recessionary slump, according to research conducted by marketing professors at the University of St. Thomas.
Shoppers here are planning to spend $ 837 per household this holiday season. Thats the highest amount since the St. Thomas Holiday Sentiment Survey began 12 years ago. Its up $ 64 or 8.3 percent from 2012, up $ 134 or 19 percent from 2011, and up $ 200 or 31 percent from the surveys low point in 2009.
The annual survey is conducted in late October and early November and provides longitudinal data on Twin Cities holiday shopping trends. The survey measures the intent of Twin Cities shoppers: how much they think they will spend for holiday gifts, what they will spend it on, and where they will spend it.
The research is conducted by Dr. Dave Brennan, Dr. Lorman Lundsten, Dr. John Sailors and Jon Seltzer at St. Thomas Opus College of Business.
Generally tracking the path of the recession, the surveys decline in predicted spending first appeared in 2007 and was especially pronounced from 2008 to 2010. There was a slight gain of 3 percent in 2011 and a much stronger gain of 10 percent in 2012.
According to the survey, 29 percent of shoppers said they would spend less this year and 13 percent said more. That compares to last year when fewer (21 percent) said less and more (18 percent) said more. In 2008, during the recession, 54 percent said less and 4 percent said more.
This year the researchers asked shoppers four questions related to the economy and their pocketbooks. When asked How are you getting along financially these days? 76 percent said the same or better. When asked how they will be doing in the coming year, 89 percent said the same or better. They were evenly split when asked if they had been significantly affected by the recession; 48 percent said yes and 51 percent said no. And when asked if this is a good time to buy a large item for the house, only 16.5 percent said yes.
In its first eight years, the St. Thomas study mirrored or painted a slightly more pessimistic shopping picture than national surveys. For the past four years, St. Thomas data has been more optimistic. The universitys predicted increase in household spending of 8.3 percent compares to the nationally projected increases by Deloitte & Touche at 4 to 4.5 percent, the National Retail Federation at 3.9 percent and the International Council of Shopping Centers at 3.4 percent. At the high end of national predictions, Acenture predicts an 11 percent increase and at the low end, Shopper Trak is predicting just 2.4 percent.
Based on survey responses and the population of the greater Minneapolis-St. Paul metro area, the researchers predict that metro-region shoppers will cumulatively spend $ 1.1 billion this year, up 9.2 percent from last years predicted $ 1.01 billion. Like the per-household survey prediction, this years metro-wide prediction is the highest in the 12 years of the survey.
The St. Thomas professors who conducted the study emphasize that actual spending might be different because shoppers could spend more or less than they planned once they get into the stores or online.
A peek under the tree

What will Twin Cities shoppers buy with their $ 837? The professors created an index to analyze the relative popularity of 14 gift categories. It sheds light on the whats hot question and allows year-to-year comparisons.
The list did not change significantly this year, with shoppers again picking perennial frontrunners: gift certificates, clothing and cash. Categories that moved up the most were toys, books and jewelry; categories that moved down the most were computers, furniture and travel.
The categories, listed with most popular at the top:

1. Gift certificates (last year 1)

2. Clothing/accessories (last year 2)

3. Cash (last year 4)

4. Books (last year 6)

5. Toys/hobbies (last year 7)

6. Travel (last year 3)

7. Entertainment (last year 8)

8. Video games/related items (last year 9)

9. Computers/related items (last year 5)

10. Sporting goods (last year 11)

11. Consumer electronics (last year 13)

12. Jewelry (last year 14)

13. Cell phones, related items (last year 12)

14. Furniture/furnishings (last year 10)
Where they spend

For the past 12 years the survey has asked shoppers where they plan to spend their money. This year's results show that shopping malls remain popular — accounting for nearly half of all shopping — but they and nonmall stores continue to give up ground to the Internet.
Respondents plan to spend 45 percent of their holiday budget at the regions 14 malls and two downtown areas. Thats down from 47 percent last year and a high of 53 percent in 2011.
They will spend 17 percent at nonmall stores this year. Thats down from 20 percent last year and a high of 39 percent in 2008.
The Internet continues to make gradual but steady inroads. This year shoppers plan to spend 34 percent of their holiday budget by going online. Thats up from 30 percent in 2012 and the highest percentage in the surveys 12-year history. In 2002, when the survey began, it was just 7 percent.
Catalogs, meanwhile, will account for 4.5 percent of this years shopping dollar. Thats unchanged from last year, but down from 12 percent predicted back in 2004.
What kind of Internet sites are most popular with shoppers? To find out, researchers asked respondents to indicate what portion of their spending would be done on four kinds of online sites: