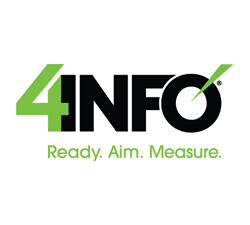 San Mateo, Calif. (PRWEB) June 09, 2015
4INFO, the fast-growing technology company solving the mobile attribution challenge for national brand advertisers to measure the ROI that matters most: sales lift at the cash register today announced JB Sugar the former vice president of AOLs MapQuest has joined 4INFO as vice president of advertising sales. 4INFO also announces the promotion of Rafael Alfaro, 4INFOs director of sales, to vice president of brand solutions. Sugar and Alfaro will be based out of 4INFOs New York City office and report to chief revenue officer, Dave Matthews.
Sugar brings more than 20 years of experience to 4INFO developing large-scale digital and mobile advertising programs for Fortune 500 brands across all categories including automotive, hospitality, pharmaceutical, CPG, telecom and entertainment. Most recently, Sugar led tremendous revenue growth for AOLs MapQuest, one of the leading mapping brands with mobile solutions for more than 40 million multi-platform users. He was instrumental in driving the companys transformation into a data powerhouse for marketers with innovative solutions to blend data with cross-screen campaigns for leading brands including Bank of America, Choice, Lexus, Wendys, Ford Motor Co. and Nissan.
JB Sugar brings to 4INFO his deep experience generating impressive results for national brand advertisers at the forefront of digital advertising, said Tim Jenkins, CEO of 4INFO. His arrival is perfectly timed for our company to capitalize on his sales leadership to escalate 4INFOs exponential growth.
Previously, Sugar was vice president of digital media sales for AccuWeather where he oversaw more than $ 35 million in annual sales revenues and achieved 50 percent year-over-year growth working with clients including GM, Subaru, Pfizer and McDonalds. As vice president of digital sales for Live Nation, Sugar exceeded growth projections by 110 percent. Sugar has also led digital media sales for Southern Progress Corporation, a formally wholly owned subsidiary of Time Inc., as well as People Magazine, Sports Illustrated, TV Guide and USA Today.
Taking on a leadership role with 4INFO is the right direction for my career that has been progressively dedicated to the explosive growth of mobile and digital advertising, said Sugar. 4INFO is undoubtedly the clear leader in mobile with the industrys only proven, patented technology to accurately tie mobile devices to households with the ability to deploy large-scale, cross-screen campaigns. From my experience working with national brands, there is an increasing demand for 4INFOs unprecedented capability to measure a mobile campaigns return on investment in terms of actual sales lift.
In addition, 4INFO continues to promote from within to meet the companys fast growth. Rafael Alfaro, has been promoted to vice president, brand solutions. Prior to joining 4INFO as director of sales in 2012, Alfaro was the East Coast sales director for Perfect Escapes, a specialty publisher of websites focused on luxury travel and lifestyle. He also served as regional vice president for Intagio Media Services, a boutique advertising agency specializing in media planning and procurement for the hospitality marketplace.
Rafael Alfaro has demonstrated exceptional leadership in exceeding clients expectations to ensure consistently impressive results for their mobile and cross-channel campaigns, said Jenkins. His sales and marketing leadership will be critical to 4INFOs continued growth.
About 4INFO

4INFO is a fast-growing mobile technology company solving the mobile attribution challenge for national brand advertisers to measure the ROI that matters most: sales lift at the cash register. A privately held company, 4INFOs brand ad revenue has tripled consecutively since 2012 and continues to experience exponential growth. Leading brands including 8 of the top 10 largest CPG companies, 6 of the 10 largest retailers, and 5 of the largest auto manufacturers rely on 4INFOs unparalleled scale and experience to deliver their mobile and cross-channel campaigns. 4INFOs patented technology reaches more than 95 percent of U.S. smartphone users in over 100 million households. 4INFO enables advertisers to target consumers with the same precision as online and direct mail advertising by anonymously matches mobile device data to household-level purchase data, providing the ability to measure actual sales results from a mobile ad spend. 4INFO has powered mobile ad campaigns for more than 200 national brand advertisers with impressive accuracy and results: ROI averaging 257% and as high as 1,000%, and market share increases at the expense of competitors. 4INFO collaborates with the most trusted 3rd party data providers of purchase and lifestyle data including Acxiom, Experian, Nielsen, and Nielsen Catalina Solutions. On the forefront of mobile innovation since 2004, 4INFO is headquartered in San Mateo, Calif., with offices in New York, Los Angeles, Chicago and Boston. Learn more at http://www.4INFO.com.
Follow 4INFO:

Website: http://www.4info.com

Twitter: https://twitter.com/4INFO

Facebook: https://www.facebook.com/4INFOInc

LinkedIn: https://www.linkedin.com/company/4info?trk=top_nav_home

Google+: https://plus.google.com/+4info/posts
###