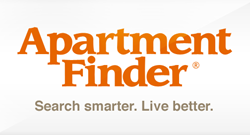 Atlanta, GEORGIA (PRWEB) April 22, 2015
To help apartment communities better and more efficiently manage their online reputation, Apartment Finder, the #1 multifamily resource for active apartment shoppers, launches ReviewScout, a highly versatile tool that monitors, collects, analyzes, and solicits online reviews all from an easy-to-use dashboard.
Renter ratings and reviews significantly impact an apartment communitys ability to lease apartment homes, says Marcia Bollinger, Apartment Finders President. With the number of review sites growing, it becomes more challenging for apartment communities to manage their online reputation. ReviewScout offers a simple, fast and affordable solution to listening and responding promptly to what renters are saying online.
ReviewScout streamlines online review management through features that enable apartment communities and property managers to:


Aggregate all reviews from major review sites such as Google+, Yelp, ApartmentRatings.com, Renters Voice and more, to one simple, easy-to-use client dashboard
Solicit online reviews from satisfied renters
Receive email alerts every time a new review is posted, with special flagging for negative reviews
Easily respond to reviews as they are posted
Monitor multiple locations on the custom ReviewScout dashboard
Analyze and evaluate statistics and metric reports on review score trends
Adds Bollinger, ReviewScout makes it easy for apartment communities to increase the quantity of their online reviews to ultimately boost search performance, improve online ratings, and strengthen reputation.
ReviewScout is the latest marketing tool offered by Apartment Finder to facilitate the connection between apartment shoppers and rental communities. Recent innovations and enhancements to the award-winning ApartmentFinder.com site include advanced search technology; robust viewing options for apartment listings; a widget offering access to renter reviews; free integrated iOS, Android and Tizen apps; industry-first On Demand Coupons; and much more.
With its continued innovations, Apartment Finder is recognized as the leading apartment rental resource among consumers and the industry. Recent honors include being named an Official Honoree in the Real Estate category of the 18th Annual Webby Awards, the #1 Apartment Search Source by SatisFacts Index, the Best Internet Listing Service by the Multi-Housing News Technology Choice Awards for the last three years as well as having received a Silver W3 Award for Excellence on the Web, and Silver 2014 International Davey Award in the Website/Real Estate category.
For more information on ReviewScout, visit http://www.review-scout.com.
###
About Apartment Finder

Apartment Finder is the anchor of the multifamily division of Network Communications, Inc. (NCI), a leading local media company providing lead generation, advertising and Internet marketing services to the multifamily segment of the housing industry. NCI's leading brands are Apartment Finder and DigitalSherpa. NCI's strategy focuses on providing high-quality and measurable marketing solutions to local clients by leveraging its proprietary prospect-focused distribution, social media and online franchises, and content management infrastructure.