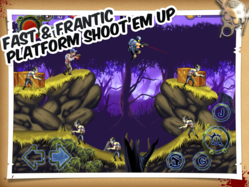 San Francisco, CA (PRWEB) September 14, 2012
Today Wandake Game Studios, leading game studio from global app publisher Sourcebits, unleashed Apocalypse Max on the iOS App Store, inviting players to blast zombies to smithereens in twenty hand-drawn, fast, frantic and stylized 2D levels.
In Wandakes latest release, you are Apocalypse Max – a knife-toting, arms-bearing marine who destroys everything undead in his path. Your mission? Charge through apocalyptic worlds and cataclysmic levels while eliminating hordes of aggressive zombies. Your motto? Better dead than undead!
So you like shooting and killing things Zombie things In a multitude of arenas, with various weapons AND hand-to-hand combat Wait! Have you been stalking us? trembled Vivek Seetharaman, Studio Director, Wandake Game Studios. Apocalypse Max lets players slice, shoot and blow up as many zombies as they can combat.
Wait, what? Wandake, in Japansese, means only one, and thats the best way to describe this developer and their newest game. Apocalypse Max is addictively one-of-a-kind, boasting 16 different creepy zombies, 20 different types of weapons, 9 distinct environments, and some of the best-looking 2D artwork youve seen to-date on the App Store.
Engage in the epic and timeless battle of man against zombie in the fast action, 2D adventure of Apocalypse Max! Wandake Game Studios is offering an introductory price of $ 0.99 for the app for a limited time, so download today!

http://itunes.apple.com/us/app/apocalypse-max-better-dead/id518327015?mt=8&ign-mpt=uo%3D2
Check out the new game trailer for Apocalypse Max: http://youtu.be/zy8w-qn02Rg
About Wandake Game Studios

From a hardened bunker 200 meters beneath the Gulf of Siam, the Wandake crew of rogue games engineers and drunken Somali piratespixel samurai toil relentlessly at one single mission: Create the most eye-wateringly, ridiculously awesome games ever. http://www.wandake.com/
About Sourcebits

Sourcebits is a global leader in mobile strategy, design & development. Based in San Francisco, California, Sourcebits is an acknowledged leader in mobile application design and development. Backed by No. 1 Technology Investor Sequoia Capital and Top Media Investor IDG, we've delivered compelling solutions for giants like GE, Intel, MIT, P&G, Hershey's, Coca-Cola, ESRI, and Fossil, as well as upcoming companies such as Peel and Sling Media. Ranked on Lead411's Technology 500 list as the 38th fastest growing technology company, our global team of 350 has executed over 350 successful mobile products on various platforms including, iOS, Android, Blackberry, Symbian, and Windows Phone 7. http://www.sourcebits.com/