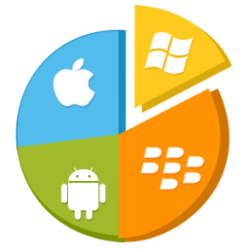 New York (PRWEB) October 07, 2014
App Maker Appy Pie rated as the top Multi-Platform Mobile App Builder by Social Cubix. Appy Pie is a powerful cloud-based do-it-yourself mobile app building tool that lets users without programming skills and knowledge create a mobile app for Android, iOS and Windows Phone, and publish it in iTunes or the Google Play store. Theres nothing to download or install simply drag and drop pages to create a mobile app online. Users can create their app in few minutes and they will receive a HTML5 based hybrid app that works with Android, iPhone, iPad, Windows Phone and Blackberry, and there is no need of installing or downloading any additional package. Everything required to create an app is available within Appy Pie's app development tool-kit and users can make their app using drag and drop facility.
We are absolutely delighted to be rated as the top Multi-Platform Mobile App Builder. For us this confirms that our Appy Pie's app maker services are the right one for small and medium businesses, said Abhinav Girdhar, CEO at Appy Pie Inc.
Earlier this year Appy Pie was also listed as one of the Top 8 Powerful Tools for the Aspiring App Developer' by Yahoo and as one of the Top 10 App Building Software by Mashable.
About Appy Pie:

Appy Pie is trademark of Appy Pie Inc. Appy Pie is the world's #1 cloud-based Mobile App maker Software that allows everyone to create free mobile apps. Appy Pie is Custom Mobile Application Development News software that allows anyone with no technical knowledge to create advanced applications for mobiles and smart-phones — nothing to download or install, no programming required, just drag & drop.
About Social Cubix:

Social Cubix empower brands, publishers and agencies with custom iPhone and Android applications, branded Facebook applications and pages, Facebook Connect integration, and the tools needed to easily control and monitor them.