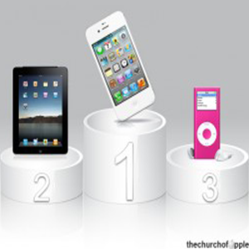 (PRWEB) May 28, 2013
The Church of Apple, a new and intuitive blog-based online portal for all things Apple, has been launched, and is already causing a buzz amidst techie circles. Broken up into pages such as Home, Reviews, About, Contact Us, Friends of CoA, Apple Fan Art and Mac PowerPC, http://www.thechurchofapple.com presents news, reviews and more, boasting an editorial staff lead by editor-in-chief Joe Giuliani and including editor of product review Dillon Ray and editor of PPC Valdemar Bonde. Not claiming affiliation with any one company, The Church of Apple is not an advertising channel but rather a link to up-to-date, accurate reviews about products as described by site representatives.
Whether its a blog post about the Apple Mac or the Windows operating system, or the newest iPhone or iPad release, thechurchofapple.com presents content in an easy-to-navigate, concisely formatted fashion free of often times distracting animated advertising elements. While site creators and developers have never officially revealed the inspiration behind naming the online portal, many computer tech enthusiasts have expressed belief it comes from the notion that the company's fans are so utterly devoted to the products, they have been labeled a cult. In fact, a pair of researchers at Texas A&M Heidi A. Campbell and Antonio C. La Pastina has submitted a paper in which they declare the sheer adoration by fanatics not cult-likebut religious.
Of particular note within the text-heavy pages of the site is a link to editor-in-chief Giulianis heartfelt blog about legendary CEO and chairman Steve Jobs at http://thechurchofapple.com/2012/10/05/october-5-2012/. In it, Giuliani speaks about remembering the life of a great man that passed away in October of 2011, citing Jobs innovations such as the Mac and uber-popular iPad. Further, Giulianis blog goes on to discuss the giant's mixed year in the wake of Jobs death in terms of product successes the iPhone 4S, new iPad, Mountain Lion, new MacBook lineup plus downsizing areas that didnt seem to work so well, such as Apple Maps and iOS6. This leading technology giant is only continuing to grow, says Giuliani in his blog. They have projects continuously in a state of evolution such as the iPad mini and MacBook Pro Retina at 13 inches, plus a TV possibly on the way andwho knows what else; the continuation of success is the companys way of celebrating Steves life, to celebrate his work and celebrate the man.
A detailed review of the hot EagleTech Foldable Bluetooth Headset, also by editor-in-chief Giuliani, has been making a splash on The Church of Apples site as well, found at http://reviews.thechurchofapple.com/?p=616; in it, Giuliani talks about the products ability to be intuitive with mobile devices, namely the iPhone, as well as its striking looks and utter comfort on the ears. And, on March 2 of this year, an informative article on the ins and outs of the renowned Mac and its desktop workings has proven incredible helpful for the countless visitors to the piece, which can be found at http://thechurchofapple.com/2013/03/02/day-one-you-and-your-new-mac-part-one-the-desktop/.
For more information or to consider submitting editorial material to the site, visit http://www.thechurchofapple.com.