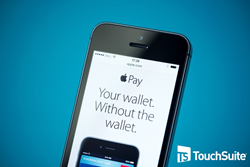 Boca Raton, Florida (PRWEB) March 11, 2015
As Apple users across the country begin to ditch their wallets in exchange for the simplicity of mobile pay, leading U.S. financial technology company, TouchSuite, announces that its entire line of Firefly point of sale solutions are now fully equipped to accept Apple Pay, among its growing variety of advanced payment options. The integration of Apple Pay technology expands the opportunity for TouchSuites thousands of Firefly POS clients to accommodate a greater, growing number of consumers that have come to dependent on NFC as a preferred payment method.
The variety of payment options available today is a great and empowering thing for the consumer, but for the SMB retailer that desires to be fully compliant, with each new advancement in the payment industry comes a host of unanticipated challenges and expenses, said TouchSuite CEO Sam Zietz. Our goal at TouchSuite is to alleviate those concerns for our clients by staying on the pulse of industry technology, so that- before they start to feel the pressure of a growing demand- we are telling them that the innovation is already available within the very solution they are currently using every day. The integration of Apple Pay is just another great example of this.
Apple Pay is only the latest technology TouchSuite has added to its roster of payment options presented through Firefly. Just last month, TouchSuite announced that Firefly became to first ever point of sale solution fully integrated with synchronized, commercially viable EMV processing capabilities. Additionally, the solution offers other NFC payment options, including Google Wallet, as well as one of the most advanced gift card exchange programs available on the U.S. market.
Easy, efficient and remarkably affordable, TouchSuites Firefly is an Android-based POS solution that gives small and mid-size businesses access to the same industry tools and innovations as major U.S. retailers, and assumes the responsibility of other costly business solutions and outside vendor services. This intuitive software, packaged in a modern, lightweight touchscreen panel, is internally a vast and comprehensive infrastructure of managerial, administrative, operational, and marketing solutions. Bringing some of the industrys foremost innovations to the SMB companies with customized software for both retail and the salon and spa industries, Firefly features such forward-thinking capabilities as mobile accessibility, automated commissions, universal gift card acceptance, customizable inventory, integrated social media channels, and a comprehensive marketing suite of automated emails with pre-programmed templates. The marketing suite will also soon offer users a one-step, design-to-delivery print piece solution that allows them to oversee everything from layout, to print, to delivery via USPS, all from within their POS system.
About TouchSuite: TouchSuite is one of Americas leading technology companies focused on the electronic payment space. It has been honored six times on Inc. Magazines list of the 500 fastest growing private companies in America. The companys latest, patented point of sale system, The Firefly, offers the most advanced software on the market, with full mobile capabilities and a comprehensive marketing suite tailored for SMB retailers and salon and spa owners. The solution is fully integrated with cutting-edge payment processing capabilities, include Apple Pay and other mobile transaction technologies, and is the first POS solution on the U.S. market with built-in, commercially viable EMV processing. TouchSuite is one of only a few processors in the country currently integrated with QuickBooks