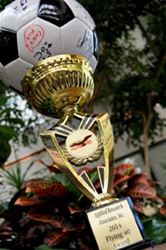 Albuquerque, N.M. (PRWEB) June 26, 2014
Applied Research Associates, Inc. (ARA) was recognized this week as the number one revenue producing company of the New Mexico Flying 40, an annual listing of the states fastest-growing technology firms based on revenue expansion in the last five years. ARA topped the 2014 list with $ 214 million in revenue.
The Flying 40 celebrates technology entrepreneurs and the contribution they make to New Mexicos economy, says John Freisinger, president and CEO of event sponsor Technology Ventures Corp. Its getting close to $ 1 billion in revenue represented by these companies, Freisinger said. When we started this annual event we were hoping to find $ 400 million or $ 500 million in revenue among them. That were approaching the $ 1 billion mark is quite significant in terms of how the high-tech industry in New Mexico has grown.
According to The Albuquerque Journal, This years roster shows how far New Mexicos technology sector has come since the recession in 2009. Taken together, the honorees reported a collective 14 percent jump in revenue over the past five years, from $ 780.3 million in 2009 to $ 889.3 million last year. Employment at those firms also grew by 11 percent, from 3,528 to 3,929.
ARA is proud to contribute to the New Mexico economy through our engineering and science work. We look forward to continued growth and impact, said ARA President and CEO Robert H. Sues, Ph.D.
ARA first appeared on the New Mexico Flying 40 list in 1998, and was ranked as the number one revenue producing technology company in 2013. This year, ARA is also ranked in the top twelve in growth for companies with greater than $ 10 million in revenue. ARA has been a perennial honoree, appearing at or near the top of the Flying 40s top 10 revenue companies for more than a decade.
Applied Research Associates, Inc. was founded in Albuquerque in 1979 and has grown steadily. The company currently employs over 1,000 people in Albuquerque, across the U.S. and in Canada.
Honorees were recognized at a luncheon and awards ceremony on June 25. See the full Albuquerque Journal Business Outlook article for more information on the 2014 Flying 40 Awards.
###
About Applied Research Associates, Inc.

Applied Research Associates, Inc. is an international research and engineering company recognized for providing technically excellent solutions to complex and challenging problems in the physical sciences. Our mission is to provide in-depth and diversified research, engineering, and technical support services. We have a broad range of technical expertise in biomedical engineering, defense technologies, civil engineering, computer software and simulation, systems analysis, and environmental technologies. For additional information, please visit http://www.ara.com.