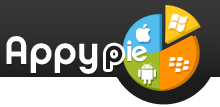 New York, NY (PRWEB) September 21, 2012
Red Herring announced its top 100 winners in recognition of the leading private companies of the World, celebrating innovations and technologies across their respective industries.
Appy Pie is the world's #1 app maker that now allows everyone to create free Mobile apps. Until now individuals and companies had to spend thousands of dollars and months of their time to create a mobile app to market their businesses and interests.
Appy Pie is a free mobile app builder software that allows a person/individual to create a highly customized smartphone app with no experience necessary and no coding knowledge. One can easily understand that they are no less than professionals in Android Mobile Application Development & iPhone Mobile Application Development. The only requirement for creating an app is to sign up for free and input their information.
After the person has filled out his details and published his app, the user will receive an HTML5 based hybrid app that works with Android, iPhone, iPad, Windows Phone and Blackberry. In addition, Appy Pie will release the Android app on Google Play & iPhone apps on iTunes for the individual or business.
Red Herrings Top 100 list has become a mark of distinction for identifying and promising new companies and entrepreneurs. Red Herring editors were among the first to recognize that companies such as Facebook, Twitter, Google, Yahoo, Skype, Salesforce.com, YouTube, and eBay would change the way people live and work.
Red Herrings editorial staff evaluated the companies on both quantitative and qualitative criteria, such as financial performance, technology innovation, management quality, strategy, and market penetration. This assessment of potential is complemented by a review of the track record and standing of start-ups relative to their peers, allowing Red Herring to see past the buzz and make the list a valuable instrument of discovery and advocacy for the most promising new business models.
The following are the reasons for why AppyPie is the fastest growing Apps Builder service provider in the world:
1. Apps can be built for Free

2. Create an App in Minutes

3. No Coding Skills Required

4. Apps get Published & Shared
About The Company:
ApplePie is trademark of Appy Pie Inc, Appy Pie is the world's #1 cloud based Mobile Apps Builder Software that allows everyone to create free mobile apps. Appy Pie is a Mobile Application Development software that allows anyone with no technical knowledge to create advanced applications for mobiles and smartphones. Nothing to download or install, no programming required, just drag & drop. Appy Pie was born in New York in 2011 & at this point more than 5000 apps are produced each month using the Service.