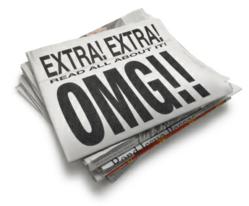 York, PA (PRWEB) April 25, 2013
In an effort to understand which news items are hitting the pulse of today's bloggers, from failed gun control legislation to the Boston bombings, StageofLife.com, an award-winning blogging community for teens and Baby Boomers (and everyone in between), is asking bloggers to submit an essay to its national blogging contest this month that answers the question, What current news story or event impacts your life the most, and why?"
Six bloggers, one from each contest category, will be selected as winners. The contest categories include High School and College Students, Singles, Married Couples, Families, Homeowners, and Baby Boomers.
Because StageofLife.com is a free educational resource and literacy initiative, there are no fees to participate in the blogging contest. The blog posts must be 500 words or less, follow the topic prompt (In the News), and be submitted to StageofLife.com by midnight, Pacific Time, on April 30th.
Winners receive a gift card or gift code prize from one of the StageofLife.com literacy sponsors – SpaWeek.com, Shoebuy.com, Fandango.com, or FragranceNet.com.
With over a quarter of a million visitors coming to StageofLife.com to read or participate in our writing contests each year, we hope this month's prompt creates awareness for a particular news item close our blogger's hearts." said Eric Thiegs, CEO of StageofLife.com.
To view details and get the submission link to upload a post to the contest, interested writers, bloggers and anyone with an opinion to share should visit http://www.StageofLife.com before April 30th.
In addition to the monthly blogging contest, there is also less than one week left for people to Tweet in submissions to the monthly StageofLife.com Short Short Story Twitter writing contest.
Participants must Tweet a 127 character (or less) response to the question, Creatively describe a favorite moment in your life, to StageofLife (@stageoflife).
One winner will receive a gift card from Stage of Life writing contest sponsor, Papa John's.
StageofLife.com was founded in 2009 as a privately held company with a literacy mission to encourage life-long readers and writers. It hosts an award-winning blogging community designed for all generations, from high school students to Baby Boomers.
Since its launch, StageofLife.com has welcomed over half a million bloggers, writers, and readers from over 100 countries who come to read or share stories. The site was founded with a mission to make the world a better place by becoming a writing resource to promote blogging and storytelling across generations. With over 5 million words from thousands contributing writers and bloggers, it has grown into one of the largest multi-generational online communities on the web.
The site also features educational resources ranging from writing contests, blog resources, Language Arts lesson plans about blogging, goal setting worksheets, writing prompts, coupons, and more.
You can reach StageofLife.com by contacting Founder and CEO, Eric Thiegs, via email at contact(at)stageoflife(dot)com.