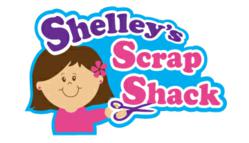 Frederick, MD (PRWEB) December 26, 2012
ArachnidWorks Inc. is pleased to unveil its newest client logo design for Shelley's Scrap Shack, on behalf of the Maryland State Department of Eduction, Division of Rehabilitation Services (DORS), in Frederick, MD. Earlier in 2012, Shelley's and DORS selected ArachnidWorks as its choice for graphic design and creation of corporate identity.
Shelley's Scrap Shack answers the growing need for creative and effective archival of photo memories in a fun and exciting way. Shelley's is proud to be a part of a myriad of hosted events, where it educates blossoming scrapbookers, looking to hone their craft. The new logo will be used in various printed materials, vehicle graphics, and online, via their new website and internet identity.
About ArachnidWorks, Inc: Offering a full range of advertising and marketing services such as graphic design, internet marketing and web design, Frederick, MD based ArachnidWorks Inc. serves Baltimore, Washington, DC and beyond. The firm also offers search engine optimization services as well as ad creation, copywriting, print media, logo design and other corporate identity services. ArachnidWorks is also an experienced media buyer in the Mid-Atlantic region.
About Shelley's Scrap Shack and The Maryland Division of Rehabilitation Services (DORS)

Shelley's Scrap Shack is a locally-owned and operated entity, working with The Maryland Division of Rehabilitation Services (DORS). DORS offers programs and services that help people with disabilities go to work or stay independent in their homes and communities. DORS is an agency of the Maryland State Department of Education. DORS is composed of