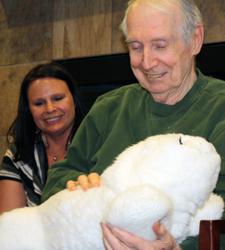 Chicago, IL (PRWEB) April 11, 2013
The PARO robot, named the "World's Most Therapeutic Robot" by the Guinness World Records organization, is being featured during a special exhibit for National Robotics Week at the Museum of Science and Industry in Chicago.
When dementia has stolen control over someone's body or voice, anxiety, depression and agitation can take hold. Caregivers are left struggling to find something that will help the person connect with the world around them. For some, it's music. For others, it's petswhether they're alive or not.
"With dementia, you're never quite sure what they'll connect with," says Alice Amro, a Certified Robot Therapist with Passages Palliative Care. "We try a lot of different techniques."
The PARO therapeutic robot is one of those not-quite-live pets. PARO looks, feels and sounds like a baby seal. It will coo when you pet it and cry when you squeeze it too hard. It knows its name, and the sound of your voice. It can easily be mistaken for a real animal, and thats the point.
It's soft and cuddly on the outside, but its insides hold some serious technology. PARO has more than 30 sensors that measure sound, light, touch, temperature and position. And it's on the cutting edge of dementia therapies across the world.
PARO helps treat dementia by providing all the benefits of live animal-assisted therapy, but without any of the mess or risk. It's certified by the FDA as a biofeedback medical device, because it responds to touch and sound.
The PARO robot is the focus of a new pilot program run by Passages Palliative Care in Chicago. Palliative care patients with dementia and accompanying depression or anxiety will receive regular visits from PARO, in conjunction with visits from their palliative care or hospice social worker.
"I'm excited to introduce it to my patients," says Natalie Benda, a Passages social worker. "Anything I can do to bring that extra comfort and relief to someone is always a positive thing."
PARO will be on special exhibit at the Museum of Science and Industry in Chicago during Robotics Week 2013. Funding is currently being raised to support a permanent exhibit at the Museum beginning in 2014.
Passages Palliative Care uses 4 PARO robots with its patients across Illinois, Indiana, Missouri and Wisconsin.