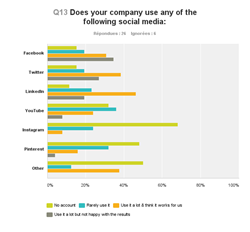 Edmonton, AB, Canada (PRWEB) August 28, 2013
Canadian companies are still missing the boat when it comes to online marketing, say several recent studies. But why? To answer that question, Frank Online Marketing Intern, Jordane Blasco, surveyed Canadian (and a few international) marketers in June 2013 as part of his Masters thesis in International Business Management. He found that theres a huge disconnect between what Canadian marketers are saying and what they are doing.
Just over half the respondents companies currently sell online (53%), but nearly a third of respondents (29%) have no staff members who are devoted mainly or totally to online marketing. In a further 39%, online marketing is part of the duties of only one staff member.
Surprisingly, given that 68% have no or almost no online marketing staff, 70% of respondents believe that their CEOs are fully committed to internet and/or mobile marketing.
Wishful thinking?
Marketers from 32 companies, mostly small- and mid-sized Canadian businesses, answered the survey. Because it was circulated on marketing and social media networks, these respondents are likely to be people with an above-average interest in digital marketing.
82% of the respondents said they personally are committed to internet and/or mobile marketing, but they cited the following major barriers:
o