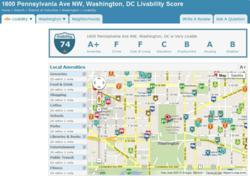 (PRWEB) September 19, 2012
AreaVibes, a leading livability scoring website dedicated to helping people find the best place to live, has recently debuted an update to their ratings system. The update improves the user experience by allowing one to input a specific address; making it easier to review the livability ratings of a specific city or neighborhood.
AreaVibes, initially launched in 2010 and featured on ABC News, provides ratings in all 50 states, including over 22,000 cities and neighborhoods, distributing a wealth of information to help people determine the area which is best suited to their lifestyle. With the recent launch of this update, AreaVibes livability score is determined using the following criteria: amenities, crime rate, cost of living, education, employment rate, housing cost, and weather. Locations receive A through F letter grades in each area, as well as an overall numerical rating; with the best places to live receiving the highest overall marks. "By providing a livability score out of 100 for virtually any address," says CEO Jon Russo, "AreaVibes helps people make informed decisions when relocating, traveling or simply doing a quality check on their own area."
To search using a specific address, enter the address into the search box at the top of the website. Upon entering the address, the website will generate a numerical livability score and the letter grades for each of the criteria used to calculate the score. The page also includes a Google Map display of the search area; the map features local amenities and their relation to input address. Preliminary information regarding each criterion is available and a more detailed breakdown can be accessed by simply selecting the criteria heading. People can also input any commute destination to view the distance, approximate time and cost for the drive using the provided address as the starting point.
During uncertain economic times, such information is imperative when relocating. Using the information provided by AreaVibes, people make more informed decisions regarding their place of residency and the areas in which they choose to work, play, and raise families. Using a map of any selected area, AreaVibes locates amenities nearby, including grocery stores, restaurants, shopping centers, schools, parks, libraries, entertainment venues, public transportation, and more; all of which may impact the decisions of those interested in relocating to or visiting an area.

AreaVibes updated livability scoring system also provides detailed information regarding how a specific citys rating criteria compare to the state average; allowing people to get a better sense of the general quality and cost of living in the state. Demographic information and ratings for surrounding cities are also available. For people unsure of which area or state to review, AreaVibes provides city livability search options by state.
About AreaVibes
AreaVibes is a one-of-a-kind livability scoring website with a custom algorithm that provides invaluable information to residences, those interested in relocating, and visitors regarding the various aspects of city life, and the quality and cost of living. AreaVibes also provides demographic information and comparative percentiles regarding the livability of a specific area, as it relates to the state average.