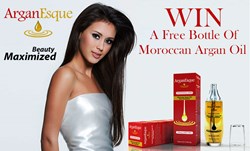 Atlanta, GA (PRWEB) June 03, 2013
ArganEsque today announced that their premium Professional Series Moroccan Argan Oil Hair Treatment product is now live and available for purchase on Amazon.com.
Marie Lewis, Vice President of Product Development at ArganEsque stated We are extremely excited about the launch of our Professional Series Moroccan argan oil products line on Amazon.com. Our premium argan oil formulation is very popular and loved by salons and customers around the world so we are very happy to bring it to a larger global audience under the ArganEsque brand on Amazon.
Marie Lewis also advised that as a special incentive to the many customers that have been waiting for the product to become available and to introduce their products to the Amazon marketplace theyve added a couple special promotional offers to the launch.
The first promotional offer is a limited time 33% launch price discount. The second is a Facebook giveaway promotion where entrants will have an opportunity to win a bottle of ArganEsque Moroccan Argan Oil Hair Treatment and membership in their exclusive ArganIsta VIP club. Club members are privy to special promotional offers and free samples of new products before they are released to the public.
When asked why there is so much buzz around this product launch when there are so many argan oil products now on the market, Marie advised that there can be a large difference in the richness, quality, and effectiveness of each product although on the surface they may look the same . She stated further that ArganEsques argan oil professional series products are a premium grade formulation that in most cases can only be found in high-end salons and that's the secret behind their great argan oil reviews.