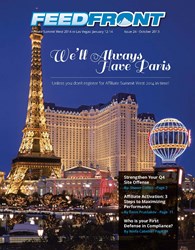 Austin, TX (PRWEB) October 23, 2013
Article proposals for the January 2014 issue of FeedFront Magazine are now open through November 1.
This issue will be mailed to approximately 40,000 subscribers in the U.S., as well as being distributed to attendees of Affiliate Summit West 2014, taking place January 12-14, 2014 in Las Vegas.
The articles in FeedFront Magazine are 500 words or less and written by folks in the digital marketing space in the first person, based on their expertise.
Interested writers should go to the FeedFront article proposal form to submit a one sentence summary on what they would like to cover.
No ghost-written articles will be considered. FeedFront Magazine wants content from people writing from their personal industry experience.
Everybody who submits a proposal will be contacted to let them know whether their article idea was accepted or denied.
More details on FeedFront Magazine at http://www.feedfront.com.