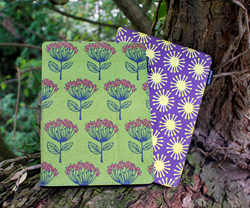 Buckinghamshire (PRWEB UK) 30 September 2014
In addition to creating beautifully UK designed covers for the iPad, Kindle, Hudl & Google Nexus, Lente Designs also produce them for the Galaxy Note 8, Galaxy Tab 2, Tab 3, Tab 4 and now also the Galaxy Tab S 10.5.
This range of tablets has to be the 'best of the rest' (i.e Android) out there. Android has a long way to go yet in terms of absolute user friendliness, but you can be sure of one thing, Samsung will always be at the forefront of tablet development.
Lente Designs new cases for the Galaxy Tab 3 8″ include: Pink Roses, Monsters Ink and Stirling Stripes designs. For the Galaxy Tab 3/4 10.1″ they now stock cases in 'Cornflower, Grey Flowers, Jade Flowers, Pink Roses and Smithy Stripes.
The newest addition is the Samsung Galaxy Tab S 10.5″ case that comes in the following designs: Cornflower, Pink Roses, Stirling Stripes and the newly released Purple Whirlygig pattern.
As with all Lente Designs products they are made with premium textiles and build quality. The cases will protect your gadget in a modern and unique style.
Technical Specifications

Complete all-round protection for the tablet
Front cover folds into a stand to allow a multiple viewing angles
High friction inner frame for an easier grip
Cut-outs for easy access to all the ports, camera, and speakers
Priced at under