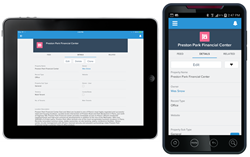 Dallas, Texas (PRWEB) November 06, 2014
Ascendix Technologies today announced it has launched AscendixRE on Salesforce AppExchange, empowering businesses to connect with customers, partners and employees in a whole new way. With over 10 years of developing software in the commercial real estate sector, Ascendix brings a decades worth of know-how and product evolution to Salesforce targeting the varied lines of business in the industry including tenant rep, agency leasing and investment sales.
Built on the Salesforce1 Platform, the social, mobile and cloud customer platform built to transform sales, service and marketing, AscendixRE is currently available on the AppExchange at http://www.appexchange.com.
AscendixRE Key Features

Contact/Correspondence tracking
Property/Lease/Availability tracking
Lease/Sale Comp tracking
Deal tracking
Integration w/ other Ascendix tools like xRE Composer for brochure and property website publications
Streamlined to strike the perfect balance of features/functionality without introducing congestion or complexity
Be up and running on this app in less than 30 days
Comments on the News

To call this simply CRM would be an understatement! It manages my contacts, my property database, and my listings, deals that I am working on, and keeps all of my correspondence with them in one place. It works seamlessly with Outlook, and I love the feature that allows me to see updates in Linkedin and Facebook within the program, stated Brandon Vandermyde of NAI Utah Southern Region
Wes Snow, CEO at Ascendix, notes, With an increased desire to subscribe to solutions in the cloud, weve responded to the marketplace demands of the commercial real estate industry by offering AscendixRE for Salesforce. Weve released xRE Foundations as the entry level solution and will be bringing xRE Enterprise out in early 2015 to address the needs of companies with more sophisticated requirement sets.
Companies are looking to transform the way they connect with customers, partners and employees to thrive in todays connected world, said Ron Huddleston, senior vice president, global AppExchange and partner programs, Salesforce. By leveraging the power of the Salesforce1 Platform, Ascendix Technologies provides customers with the proven social, mobile and connected cloud technologies to accelerate business success.
About Salesforce AppExchange

Salesforce AppExchange is the worlds leading enterprise apps marketplace that empowers companies to sell, service, market and engage for the Internet of Customers. With more than 2,200 partner apps and more than 2.4 million customer installs, it is the most comprehensive source of social, mobile and connected cloud apps for business.
Additional Resources

Become a fan of salesforce.com on Facebook: http://www.facebook.com/salesforce
Follow salesforce.com on Twitter: https://twitter.com/salesforce
Follow us on Google+: https://plus.google.com/+Ascendix
Follow Ascendix on Twitter: https://twitter.com/ascendix
See xRE Composer: https://www4.gotomeeting.com/register/954901103
Salesforce, Salesforce1, AppExchange and others are among the trademarks of salesforce.com, inc.
About Ascendix Technologies

Ascendix Technologies has been providing CRM solutions for 17 years and commercial real estate specific solutions for 10+ years. Located in Dallas, Texas, Ascendix is the leading provider of CRM and other CRE solutions for commercial firms and individuals.