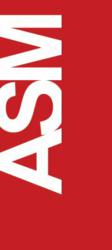 (PRWEB) September 12, 2012
Email is evolving, and very soon 90% of all web traffic will be video, according to YouTubes Robert Kyncl, the head of global partnerships. Covering this emerging trend, the marketing training and development website, Association of Strategic Marketing, is hosting an online marketing training webinar on October 16 from 1-2:30 p.m. EST entitled, Strategies for Successful Merging of Email and Video. Using examples and case studies, ASM will teach online marketers everything they need to know about creative design and email client support for video.
By the end of 2011, video exceeded half of global consumer Internet traffic, according to Cisco Visual Networking Index. The sum of all forms of video (TV, video on demand [VOD], Internet and P2P) will be approximately 86% of global consumer traffic by 2016. This means video content will be around for years to come which poses new, limitless opportunities for online marketers.
Hosted by nationally recognized speaker Luke Glasner, founder and principal of Glasner Consulting, webinar attendees will learn how to use engaging video content in emails to drive conversion and program value. Using examples and case studies from the field showing what works and what doesnt, the webinar provides attendees with the information to make an informed decision about including video in email programs today.
In this live webinar, online marketing experts will: