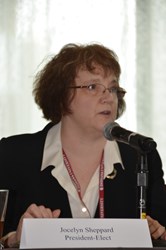 Baton Rouge, LA (PRWEB) October 21, 2013
The Association of Independent Information Professionals (AIIP, http://www.aiip.org) announces that WordsAnalytics Inc. (http://www.wordsanalytics.com) is being honored as the recipient of the 15th annual AIIP Technology Award. The award will be presented on Oct. 28, 2013 at Information Today Inc.s Internet Librarian Conference in Monterey, CA.
WordsAnalytics Inc. is a web-based program that provides a textual analytics approach for searching Securities and Exchange Commission (SEC) Edgar regulatory filings and GAAP reporting requirements. According to the firm, its product enables users "to conduct legal, marketing, and human resources research along with due diligence for mergers and acquisitions and competitive intelligence."
The firm was nominated for the award by AIIP member Jan Davis of BlueSage Research (http://bluesageresearch.com/). "SEC filings are rich in information that is useful to attorneys, marketers, accountants, and other business professionals," Davis explains. "However, because the filings are often thousands of pages in length, the data is often difficult to target. WordsAnalytics' textual analytics software allows for search and analysis capabilities that other SEC EDGAR databases dont provide.
AIIP President Jocelyn Sheppard adds, "WordsAnalytics offers a powerful research tool and, as an AIIP industry affiliate, theyre doing so at a price thats affordable for independent information professionals."
About the AIIP Technology Award
Each year, AIIP presents the AIIP Technology Award to recognize innovative products that enhance the working environment of the independent information professional. Each year's award is presented to a firm that offers a new product or technology that helps information professionals with their day-to-day operations in locating, analyzing and organizing, and delivering information.
Previous winners of the AIIP Technology Award include: