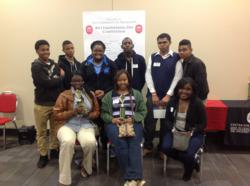 Ridgeland, MS (PRWEB) March 28, 2013
Designing Science, Technology, Engineering, and Mathematics (STEM) solutions to problems has been the most challenging but fun experience for a group of at-risk minority students taught by Scientific Research (SR1), a non-profit organization located not in Silicon Valley offices, but in Ridgeland, Mississippi.
STEM is an increased priority for the United States global competitiveness, but there is a shortage of talent in the United States. An additional dilemma is the underrepresentation of minorities and women in STEM fields. Because of these noted problems, President Obama launched the Educate to Innovate campaign in November 23, 2009, with the goal of improving the participation and performance of Americas students.
An estimated 8 million high-tech jobs are expected to develop in the next 5 years. Many schools do not have the resources, know how, or time to teach students highly-advanced STEM skills. According to a study done by the National Academy of Sciences, employers have stated that job applicants lack the needed mathematics, computer, and problem-solving skills to succeed. The gravity of this problem has also come to the attention of the Obama Administration; on March 18, 2013, new steps were announced to meet the presidents goal of preparing 100,000 STEM teachers to meet the STEM Shortage.
Scientific Research has provided STEM mentoring for a group of at-risk minority high school students. According to the National Center of Education Statistics, the term at-risk implies a possible future with less optimal outcomes due to lack of social and academic opportunities. The STEM mentorship from SR1 facilitated the opportunity for the students to compete in recent engineering and robotics competitions located at the University of Mississippi. Both competitions featured trade-off of factors associated with possible solutions.
On February 23, 2013, SR1s students, along with 29 teams of top future engineers from the state of Mississippi, Arkansas, and Tennessee, participated in the Civil Engineering Water Tower Shake Table Challenge hosted by the University of Mississippi. SR1s 3 teams (2-4 students per team) had to take a highly advanced test, appear before a panel of engineering judges to answer questions, and place their tower on a shake table that provided an earthquake simulation. SR1 teamsconsisting of all freshmen and sophomoreswere the youngest teams contending, but won both 2nd and 4th place trophies in the Cost Design Efficiency category.
On March 2, 2013, some of these same students, with no prior programming or robotic-building experience, competed in the inaugural Mississippis For Inspiration & Recognition of Science & Technology (FIRST) Tech Challenge Championship, an internationally recognized high school robotics competition. Under competition rules and time restraints, students experienced engineering as they would in the real world, using sophisticated hardware and software and honing their strategic thinking and teamwork skills. The team was disappointed to finish 13th out of 21 teams but was proud of what they had accomplished and how much they had learned. Like true scientists, they plan to continue learning and improving their skills. Zephaniah Collins, team captain and sophomore from Murrah High School, took the role as driver during the competition. I learned that hard work and teamwork pays off. We have been working for a long time on the robot, and we came a long way. I think we did a lot better than we initially expected.
In preparation for the Engineering and Robotics competitions, the students were taught over several months mainly at SR1s office and at Millsaps College, a local college that has partnered with the non-profit organization. SR1 STEM coach, Kia Graham, said, The students were successful because they dedicated themselves as scientists, sacrificing weekends and committing some days over 10 hours. They additionally learned one of the most important concepts of scientists: learning how to fail, before succeeding.
Despite the socioeconomic disadvantages hovering over many students in the state of Mississippi and throughout the nation, SR1 never doubts students potential for academic and life success overall. It has the firm goal of helping students survive in their world so they can explore new worlds. SR1 is becoming a recognized leader in teaching STEM while providing academic and social-skill mentoring during non-school hours. If SR1s programs continue to be successful, an academic breakthrough is possiblenot only for the students, but for the entire state of Mississippi and the nation. Ultimately, students will possess the skills needed to alleviate the STEM shortage in the U.S. and eliminate the U.S. need to seek STEM professionals abroad.
Highlights: