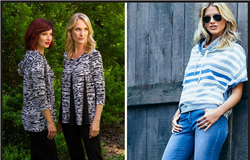 Atascadero, CA (PRWEB)
July 18, 2015
Atascadero womens clothing boutique Kellys Casuals announced this week that they have launched a brand new website – http://kellyscasuals.com/.
The elegant Atascadero boutique carries womens clothing, jewelry, purses and accessories. They are staffed with experienced, knowledgeable and friendly locals, who are dedicated to helping local women feel their best.
I love to help women find clothes that fit and flatter them, said owner Kelly Long. Her store is decked out with colorful, unique, fashionable and affordable items, much of which are made in the USA and all of which are hand-selected by Long. I want to help women on the Central Coast to find clothes that they want to wear and feel beautiful in.
The new website was designed by Paso Robles web design, SEO, and online marketing company Access Publishing. It showcases new arrivals in the shop, customer testimonials, as well as shop news. Long brings her beautiful wares to local festivals, and participates in local fashion shows. Check out the new sites events page to see where Kellys Casuals is headed to next. The site also offers links to the shops social media pages, such as Facebook, twitter, and google plus, which helps customers stay connected.
Kellys Casuals has been operating for nine years, although Long has had a passion for helping local women feel and look beautiful for over three decades.
Kellys Casuals was Atascaderos Business Of The Year 2013 and received the Beautification Award. Long currently serves as the Chairman of Directors Atascadero Chamber of Commerce. She is a big supporter of many local non-profit organizations, and loves to be part of the Atascadero community.
Kellys Casuals is newly located across the street from Haggen's in Atascadero. They are open Monday through Saturday, from 10 a.m. to 6 p.m.
Kellys Casuals

8125 El Camino Real

Atascadero, CA 93422

(805) 461-1800
Press release by Atascadero web design and SEO company Access Publishing, 806 9th Street, #2D, Paso Robles, CA 93446 (805) 226-9890.