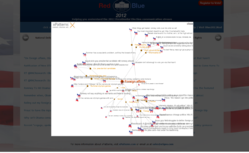 Bellevue, WA (PRWEB) August 14, 2012
Atigeo, a compassionate technology company delivering a revolutionary big data cloud software platform, announced today the launch of red2012blue.com and blue2012red.com, a free online analytical tool that empowers voter research of President Barack Obama and Governor Mitt Romneys positions on all issues. Red2012Blue and Blue2012Red applies Atigeos xPatterns contextual semantic search platform to the candidates most prominent social media feeds to reveal deep insight about the candidates positions on a wide range of issues that matter most to the electorate.
Data analytics is revolutionizing the run up to the 2012 presidential elections, as both candidates have deployed seasoned digital operations and data mining techniques that identify, connect with and mobilize voters. The websites, red2012blue.com/ blue2012red.com, put these big data tools into the hands of voters, allowing them to move beyond linear search and make meaningful connections with the information being shared by each party and their candidates social media channels.
Atigeo is thrilled to make xPatterns available to U.S. voters. The problem of linear search is not only felt by industry, but also by everyday people yearning for more information about the candidates running for public office, said Christopher Burgess, chief operating officer and chief security officer at Atigeo. red2012blue.com/blue2012red.com, Atigeo has put the power of big data analytics into the hands of every voter in an agnostic manner, without the additional input from the political pundits or analysts. With an intuitive user interface, voters can make more unforeseen connections and achieve deep clarity about President Obamas and Governor Romneys positions and sentiments on relevant issues. We urge every eligible voter in the United States to go to the polls on November 6, 2012 and vote.
In order to unlock hidden correlations and other useful information stored in each candidates social media channels, Atigeos xPatterns platform assigns relevance scores and generates domain concepts that allow voters to organize and search pertinent tweets, blogs and other articles in clusters. Atigeo's visualization tool allows users to easily navigate the clusters to discover non-obvious relevant concepts and documents relating to the original search query. Both linguistic and data agnostic, the xPatterns platform improves its analytical value through machine learning of users interaction with structured and unstructured data. In other words, it gets smarter the more a voter uses it.
The data is pulled directly from the following feeds since before 01 January 2012: