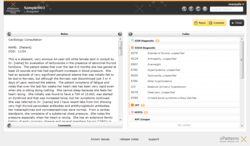 Bellevue, WA (PRWEB) September 28, 2012
Atigeo, a compassionate technology company, today launched xPatterns C.A.C., intelligent computer-assisted coding software made possible by the xPatterns intelligent Big Data platform, for hospitals, physicians offices and payers. Using xPatterns patented, state-of-the-art technology our proprietary algorithms, exposed through APIs in xPatterns, reveals implicit patterns rather than looking for explicit pattern matches. xPatterns C.A.C. automatically generates clinical codes directly from encounter notes and infers the correct billing codes delivering double digit improvements, thereby positively impacting both patient outcomes and bottom line returns.
Using xPatterns C.A.C., organizations benefit not only from, faster coding turnaround time and dramatically higher coding accuracy but also from improved insight, tracking and metrics. xPatterns C.A.C. streamlines conversion to ICD-10 by natively revealing procedure and diagnostic codes based on concepts extracted from physician-patient encounter notes, allowing for side-by-side ICD -9 ICD-10 comparison for training and to highlight missing potential information to appropriately document and bill. This translates to faster provider-payer turnaround, automatic traceability, and increased physician patient encounter time.
There is no longer a question as to whether or not a hospital facing ICD-10 conversion needs big data analytics to stay competitive. The question now is whether the historical barriers that have prevented healthcare from leveraging big data are still in place. I am thrilled to announce that with todays launch of xPatterns C.A.C., those obstacles are gone, said Michael Sandoval CEO, Atigeos chairman and founder. At Atigeo, we welcome the rapidly multiplying body of healthcare information, whether it be ICD-10 codes, digitized medical records or the continually expanding corpus of global medical research, as an opportunity to make positive changes that will reverberate for decades to come. Atigeo was founded on the promise that big data can create historic opportunities for positive change.
xPatterns C.A.C. is feature-rich. It includes workflows accommodating the roles played by administrators, coders, doctors and auditors in coding. In its audit mode, xPatterns C.A.C. detects possible anomalies such as under-coding, over-coding, miscoding, and assists in the detection of fraud, error, and waste. Financial managers can view real-time dashboards showing coding productivity, organizational trends and other analytics. Coders are able to quickly examine xPatterns C.A.C. recommendations, and then confirm or adjust the codes as needed, thus becoming much more efficient. In place of laborious perusal of encounter notes and looking up codes, with xPatterns C.A.C., the coders primary tasks become review and validation.