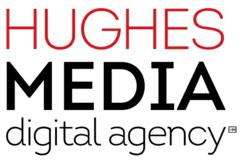 Atlanta, GA (PRWEB) September 23, 2012
It is estimated that over 40 percent of the mobile devices used in the US are smartphones with internet browsing capability, and the global audience is even larger. As more and more web users access and consume websites on mobile or non-desktop devices, such as a television screens, the need for appropriate and responsive web design continues to grow. Hughes Media recently launched their own responsively designed website and they work with clients to design and develop new websites that utilize this design platform.
A responsively designed website adapts to the reader and, more importantly, the device that reader is using to access the internet. The main benefit, then, is that a responsively designed website provides a quality and consistent experience for a companys user base. With over 47 million daily mobile internet users in the US according to the Pew Internet and American Life project, it is more likely that a customer will consume a website on a screen other than a desktop computer. Plus, research indicates customers are 51 percent more likely to engage and do business with companies that have mobile-friendly websites. A single responsive website unifies good engineering and graphic design and reduces the need for multiple versions of a website which ultimately saves development time and money.
Understanding and utilizing responsive design is becoming increasingly important for us and our clients, says Hughes Media CEO Deedra Hughes. Its a great advancement for customer service and engagement. Responsive design eliminates the need for excessive scrolling or zooming and allows visitors to consume a website on whatever device theyre using with comfort and ease.
Located in Atlanta, GA, Hughes Media, Inc. was founded in 2000. With over 20 years of advertising and marketing strategy experience, the Hughes Media team combines digital marketing with search engine optimization and responsive, purposeful web design to improve client success. The team is certified in Google Adwords and Google Analytics to provide full-service and success internet marketing. To learn more about the services offered by Hughes Media, contact Deedra at (404) 848-0487 or visit http://www.hughesmedia.us.